Her Terrain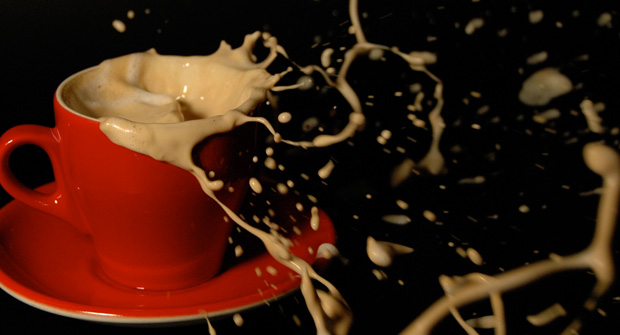 Norman sat in a shaded outdoor café on a road with little traffic. He was so impressed by the place he thought: This is going to become my local.
Trees lined the café's terrace, the morning bright, a family seated nearby in sprinkled light.
Norman turned to the sports results. Men lust for geographically-based drama.
He ordered white coffee, the waitress asking: "Milk?"
"Hot, thanks."
Her shapely figure made him think: This really is a pleasant café.
The waitress had also just taken orders at two other tables; because she hadn't written anything down, Norman wasn't confident about getting what he had ordered. After all, this was Spain. But he had time and it really was a pleasant café.
The waitress served the two other tables, but she hadn't brought Norman's coffee.
A couple at another table had ordered something and when the waitress came out of the café again she still didn't have Norman's coffee. She put drinks down on other tables.
When she passed Norman he asked: "Coffee?"
She flicked her head and said: "Oh, yes — coming."
She returned with the coffee and asked: "Cold milk?"
"No — I prefer hot."
She reentered the café to get hot milk. Norman's cup was half-filled with black coffee.
Conflict dominated the newspaper's stories. Stealing is called international relations.
The waitress returned with hot milk.
"Thanks," Norman said.
Within seconds, the coffee made him think: This is such a pleasant café.
The waitress didn't smile when dealing with Norman, but her teeth were vivid white in her wide mouth when she addressed a family who had just sat down. Being alone on Sunday mornings isn't normal. You should be with family or friends. Norman was the only one by himself.
He ordered another coffee. The waitress's eyes were cold — when she looked at Norman.
"Another coffee?" she confirmed.
"Yes, thanks."
The waitress entered the café. When she returned she gave a bill to one of the families. She chatted with the parents, the children mini-versions of their mother and father.
Norman reminded the waitress that he had ordered another coffee; she flicked her head again, acknowledging another memory failure.
But Norman wasn't upset. It was a pleasant café and he wasn't in a hurry.
She returned with coffee and milk. When she was about to pour the milk she remembered that he had wanted hot milk and not cold so she re-entered the café to get the hot milk, stopping to take an order from some people who had just arrived.
Five minutes later, she served the newly arrived people, but she passed Norman without filling his coffee cup with hot milk. Black coffee stood before Norman again. Oh well, he thought, it's so wonderful here it doesn't matter.
A couple asked to have an umbrella put up. The sun's prongs were now penetrating the trees. When the waitress stretched to put up the umbrella, Norman thought: That butt produces a few hundred extra a week for this place, for sure. With a posterior that pertinent, he contemplated, the attractions of an already pleasant café are now even more attractive.
He tried to inform her of the absence of the hot milk, but she walked away to take another order from another family, smiling at a baby in this family's father's arms, her voice lively, different to what it had been when she had communicated with Norman.
When she passed him he said: "The milk, please."
"Oh!" she said, acknowledging another memory lapse.
Those failures were irrelevant; it was a pleasant café; it was going to become his local, and the waitress was so beautiful that any service problems could be forgiven. Why destroy the possibility of other types of service because of impatience? Service can improve, and there was no hurry. He was already feeling the pleasure of all the pleasure that was going to come from being in such a pleasant café.
Pouring the hot milk into the cup, the waitress said: "That's your third, right?"
She spoke as if she were addressing a servant.
"It's my second," he replied.
"It's your third."
"Sorry, it's the second."
"No — it's the third."
He laughed.
She said: "I'm only going to charge you for two, but I know it's your third."
It was a pleasant café even if the waitress wasn't pleasant herself.
She sneered at him when she came outside again and again he laughed. Lone men — where gays and prostitutes would not feel welcome — are unworthy of God's kingdom. The waitress's gold, Jesus Christ-on-a-cross necklace sat between her protuberant breasts — exactly where millions would have loved to have placed something as upright as Christ.
It was a pleasant café, but he wasn't going to go there again. He was going to have to find a café less pleasant.
Inside, the waitress said: "That guy has had three coffees, but he claims he's only had two. I won't be serving him again."
"Improving" humanity means being aggressive towards it.
Norman left her aggressive kingdom never to return.
—
Kim Farleigh has worked for aid agencies in three conflicts: Kosovo, Iraq and Palestine. He takes risks to get the experience required for writing. He likes fine wine, art, photography and bullfighting, which probably explains why this Australian lives in Madrid. Although he wouldn't say no to living in a château in the French Alps.