EARNEST BLOUNT – Other Directions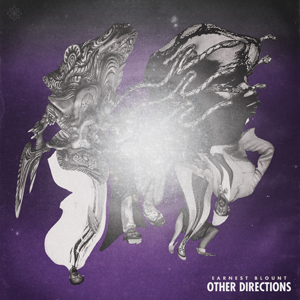 Space is the mathematical construct of the universe, boundless and three-dimensional — adding the fourth makes spacetime, which, while endlessly fascinating, has no place in this review — in which all objects and events occur, housed within space's constant positions and directions; it is the stage on which the universe acts. Earnest Blount works in the contexts of space, more than sound, on Other Directions. A space is consistently presented to the listener at the beginning of a piece, oftentimes a simple, lush sound — these spaces are not blank canvases, just as our space is never truly empty, simply devoid of constructs complicated enough to capture our imagination and attention — which soon becomes a framework within which Blount goes to work; he delights in filling it, destroying it, altering it. Highly layered, textual components take shape, molding each space into a separate song, connected predominantly by their shared use of hollow beats and jazz influences.
"You Tope, Ya?" opens with gently swelling chords (a sound that Blount utilizes repeatedly throughout Other Directions) and chirps, reminiscent of the seagulls and breakers on a gentle day at Lake Michigan, with the skyline looming like sand tiger teeth in the background. This gives way to a pulsating dance rhythm, perfectly suited to a couture runway, a unique beat not frequently heard, which proceeds to stalk directly into a more open, classically flavored stretch. "Topgurl (Jondy's Lady)" evokes a band circling Charybdis, the jazz influences felt more strongly here and snippets of sound poking their heads out from the maelstrom for brief gasps of air before being sucked back down.
The rich aural diversity of the first two tracks seems lacking, however, on the title track, an over six-minute-long desolation piece that takes a vast space and proceeds to fill it predominantly with clicks and shuffles. Every piece on Other Directions could be considered cerebral electronic music; it does not promote compliance and drifting so much as demand attention for comprehension. While this task is little to ask on the more varied productions, it becomes a high hurdle indeed when one is faced with a sudden desert amidst nothing but jungle.
Thankfully, "Looseleaf Head-Full" is not an experiment in minimalism. It opens with what could be described as Little Nemo: The Dream Master on mushrooms, and proceeds to add a strong lower synth line that would sound at home on an upright bass. This lower line and another above it are conjoined in an almost prog-lite melody, a firmly definitive sound and structure that stands apart from the other cuts on the EP.
Other Directions may not be enjoyable to all; it is a difficult listen during a time of simple electronic dance music, a robust flavor when most are happy with four-to-the-floor or a heavy wobble. But those approaching Earnest Blount with the desire and wherewithal to explore the array of sounds and textures he trades in may take something away from the experience.
(Alpha Pup Records, 3371 Glendale Blvd. #101, Los Angeles, CA 90039)
—
B. David Zarley is a freelance writer based in Chicago. You can find him on Twitter, @BDavidZarley, or check the bars around Wrigleyville on any given night.