KIMONO DRAGGIN' – Kimono Gold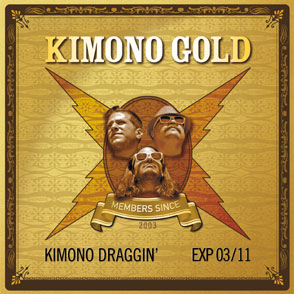 In 2011, these New Haven, Connecticut-based cats were picked as one of the Verbicide's top 30 unsigned bands. And to show the world how awesome Kimono Draggin' truly are, they:
1. Released a record of herky, complex, indie-mutation giddy rock that doesn't come off as stupid.
2. They broke up.
Well, that second part blows.
But at least you can gather up the back catalogue and dig all the sounds as you kneel on your Kimono rug and pray to the alter you build to them…and you very well might. Kimono Gold is, I guess,  a perfect swansong type of record. And it is a record, released only on vinyl (which comes with a download code). Gold wax, too.
All 10 tracks are pure fun. Smart noodling, complex, angular rhythms, and wailing vocals that remind you of a twisted, acid-dipped children's show or if the Minutemen were from Europe. The track "Sunflower Oil" will make you want to vigorously walk around your neighborhood with a determined smile on your face. The well-added chunkiness in "Two Fingered Bowling Ball" and "Peat Blast" demonstrate their style of heavy intelligence. Witty and giddy. A really good time.
(self-released, no address provided)