SPACEGHOSTPURRP – Mysterious Phonk: The Chronicles of SpaceGhostPurrp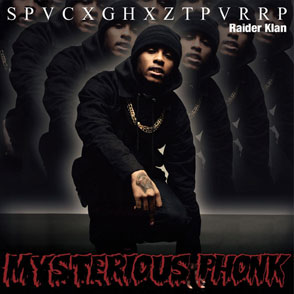 SpaceGhostPurrp is trying to do quite a bit for only being 21 years old. The Miami-based emcee/producer is trying to go the way of many rappers before him and become a duel threat — just like Eminem, David Banner or Kanye West, SGP is looking for that blend of intricate beats mixed with his own lyrical style. The challenge, however, is to be elite at both, and, for SGP at 21, this hasn't occurred yet.
It only takes a few listens to SpaceGhostPurrp's latest album, Mysterious Phonk: The Chronicles of SpaceGhostPurrp, to see that all the elements of being a dominant duel threat are not there yet. The album, which consists of 14 tracks, 11 of which are from previous mixtapes, shows off just how talented SGP is a producer. Already having laid beats for A$AP Rocky and Wiz Khalifa, SGP was building his name as a producer before his label, 4AD, released his collection of new and old material for this release. SGP's production sound is futuristic, eerie, and, most of the time, very trippy. SGP's beats are quite similar to those of Kid Cudi on his first two major-label releases.
A listener can get lost in how complex, unique, and different the beats are. The downside on the album, however, is that SGP trying to do too much. As good as the production is, he shows his youth as an artist still trying to find his voice to match the sound he's created. In simple terms, the production is ahead of the lyricism.
It's evident that SGP, being from Miami, is influenced heavily by the Southern rap scene, but also that his sexually explicit lyrics might remind veteran hip-hop fans of legendary Miami-based rapper Luther "Uncle Luke" Campbell of 2 Live Crew. While at times it may be difficult for a listener to make it through the degrading lyrics of "Suck a Dick 2012," "Get Yah Head Bust," or "Grind on Me," the problem isn't the content of the lyrics, but more how they are executed. Too often on the project it seems that SGP suffers from lazy lyricism.
During the early tracks of the album, SGP gets a good flow going of catchy phraseology, but all this momentum is lost by the middle of the album when the barrage of sexually explicit lyrics come into play along with references that fall flat. "Suck a Dick 2012" not only features some of SGP's crudest lyrics, but also references that leave the listener laughing at him, not with him: "Dunkin' in your spot so hard, I'm feeling like Vince Carter," SGP raps in the first verse. If that lyric doesn't impress you, he follows it up with, "Baby girl put it in, throw it back like a pitcher/Then I'm a catch it like Randy Moss, then go again and hit cha.'"
I get that SGP is going for a sexually explicit sound through most of this album, but his lack of substance in the lyrics results in lines that have little impact. His references don't come off as clever or cunning, but rather as repetitive adolescent humor that will have many listeners not taking SGP seriously.
One of the more popular tracks on the album, "The Black God," sees SGP taking a break from perversion to send a more positive message. The song is such an outlier from the rest of the content on the album that it comes as a surprise to the listener after the abundance of sexual overtones laced through the previous tracks. The track's closing features encouragement from SGP to stay positive and strong — a benevolent message from an artist who otherwise apparently recounts in his lyrics every sexual exploit he has ever had.
Due to the fact that this album is a collection of both new and old material, it's difficult to see what direction SGP is leaning toward, or what the future of his career will bring. Overall, the album suffers from a great deal of repetition. I get that SGP is trying to talk up the lifestyle of a 21-year-old rap star, but after 14 tracks, the content becomes stale.
There's no doubt that SGP has a very good chance to be a great producer, as Mysterious Phonk is worth listening to just for the production value alone. However, his lyrical content and song structures — from verses, to hooks, to rhymes — still are in need of a great deal of maturation.
(4AD Records, 17-19 Alma Road, London SW18 1AA)