FEAR AND LOATHING IN LAS VEGAS

Universal Pictures
118 min., dir. by Terry Gilliam, with Johnny Depp, Benicio Del Toro, and Tobey Maguire
Fear and Loathing at the Century Centre
There is something savagely fatalistic and inherently wrong about the living embodiment of the Generation of Swine, what Hunter S. Thompson described as possessing "Huge brains, small necks, weak muscles and fat wallets …"  hauling his grossly obese self up the roughly five stories to Chicago's Century Centre Theater to partake in a screening of what many consider to be the good Doctor's magnum opus — these people are wrong; it is Fear and Loathing on the Campaign Trail '72, do not let anyone tell you otherwise, and there is no surer indicator that said person's knowledge of Thompson and his work extends no further than the Johnny Depp vehicle we were all 30 or so gathered to see than to claim anything else — and proceeding to not only mash his way into a seat, slurping down something as dreadful as it was overpriced down his wobbegong-like mouth, barely contained in a Fear and Loathing tee-shirt, looking for all the world like a bratwurst about to burst on the grill, but also sleeping through it, his guttural rumbles emanating from above the thick folds of his neck and chin, which, when slumped down to his chest, resembled the coils of an albino python with a matted brown mop atop its head.
There was also something beautiful about it — if whoever he is is somehow reading this, take no personal offense to the proceeding paragraph, please — as most all of us there were some variety of freak or outcast; there was the cute couple who seemed likely be some sort of creative writing or visual arts majors at Columbia College, a gaggle of gangly geeks, a few women, ranging from dubious to almost comely, the token black guy, and of course myself, the wiry gentleman constantly crossing his Walmart brand navy blue boat shoes in front of him, fighting the mild urge to relieve all of the Canadian Club and Chill Soda that had gathered in his bladder. We had all flocked on a Friday night, like moths to a flame, for a movie, not even a particularly excellent movie, made 14 years ago. I could not speak to their reasons for coming, but as for myself, with no girlfriend and a terribly depressing day constituting the bulk of my weekend so far, coming to pay homage to one of my strongest writing influences seemed to be the perfect way to snap out of this terrible funk I was in, escape the sweltering heat, and get out of my own head, if for only 118 minutes.
The criticisms the against the film are well-conceived and easily conceded, even by a Thompson aficionado like myself; stream-of-consciousness does not make for a film that actually means something. It is the same reason why video game adaptions often lose their way on the silver screen. Movies beg for linear structure, a story in the classic, traditional sense, and Thompson's book is not so much that as the scribbled fever dreams of a uniquely American mind, addled with drugs and vice and lights and dreams and laid to bare, bones and all, for us to become lost in on the page. Film simply can not do the concept justice. Having the screenplay not handled by Thompson himself is most likely a minor concern…indeed, the fucking thing could have very well turned out weirder with his hand on the tiller. The finest works that came from New and Gonzo Journalism, pieces like "Girl of The Year" and "Frank Sinatra Has a Cold" and "Slouching Towards Bethlehem," do not simply report a story. They insert one into it, so deeply and fully that it is almost impossible to not feel yourself at their side, cavorting around New York City with Tom Wolfe, or sharing a cigarette with a pensive Joan Didion, Haight-Ashbury reflected off of her sunglasses. It is in this aspect that the film most fails Thompson and his work; it simply cannot fully drown you in the story as his writing did.
All that aside, there is something that speaks to you when you hear Depp reading that unmistakable opening passage or the breaking wave monologue through delightfully clenched teeth, and the drug scenes do provide the sense of dreadful unease that only a fine psychedelic can accrue. Never has a trip gone by where, for at least one climactic moment, I was not convinced of my own impending death. This sounds horrific to the neophyte, of course, to the consciousness virgin who has never shifted perspectives, but it is true, difficult to represent in any art form and the Nature of the Beast. To be able to solicit anything even near those emotions is a success, one that perhaps critics could only see with a special kind of eyes.
Benicio Del Toro takes upon himself perhaps the film's most difficult role as the living embodiment of that drug fear, that crazed, anxious, living thing that stalks the brain and always seems prepared to pounce. He is a cawing, mumbling, crying, screaming dervish of a mess, devouring scenery with the reckless abandon of Leviathan and whipping from steely, reptilian professional — his brief level-headed stint back in LA, corresponding with a Baker-bound Depp before they raid the DA's conference is, in some ways, more disconcerting than his howling weirdo schtick; the idea that this maniac could actually know what he was doing in a court of law is almost too terrible to bear, unless he was sitting at your side — to King-Hell drug fiend with a death wish. Imagine the difficulty that comes from playing a man Thompson described as "One of God's own prototypes. A high-powered mutant of some kind never even considered for mass production. Too weird to live, and too rare to die." Del Toro's portrayal of such a figure is perhaps the best one of us mere mass-produced could have ever managed.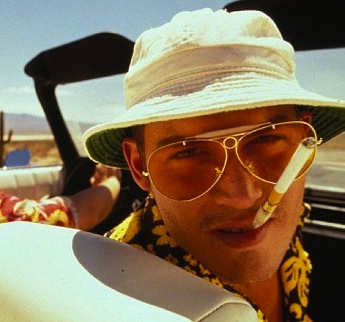 Almost buried in Del Toro and Depp's overpowering roles is a fantastic list of actors, some of whom only pop in briefly, fading in and out as your friends do in a dream; you know you know them, but here, they are only playing a role. They included a wide-eyed and naive Tobey Maguire, an alluring Cameron Diaz, and Gary Busey, fitting like a missing puzzle piece into what seems to be the most comfortable role of his career. Christopher Meloni fucks with a cop, a scene that becomes far funnier given his success on "Law and Order: Special Victims Unit," and celebrities of the various strata of fame lurk within the formica and mescaline surroundings. I had never noticed Mark Harmon at the Mint 400 until the Century screening. His casting carried a delicious undertone, as Harmon is the son of legendary Heisman winning quarterback Tom Harmon and was a signal caller himself at UCLA. Thompson's devotion to the gridiron is well known; his suicide note was titled "Football Season is Over," making the Harmon casting a fun homage. Whether or not this was done on purpose I can hardly venture to guess.
Ellen Barkin practically steals the movie. Her damaged, shell-shocked waitress is the centerpiece of a brief, unsettling scene, one which raises in myself twisted memories and fearful recollections of unstable people, weapons, and women. She is the polar opposite of Christina Ricci's Lucy, a doe-eyed pit bull. Barkin is resilient and legitimately tough, unlike Lucy's delirious strength, but it is because her thick skin is real that it breaks. While her character study may not make weight in a more cinematic picture, here, amid the haze and camp and bizarre train-wreck pacing, she provides a rare moment of human drama.
The crowd, I gathered, did not reverberate on all the right vibes. They laughed at the outwardly funny moments, the "right" moments, but seemed to lose the various details. In the kaleidoscopic mess that is Terry Gilliam's  film this is, of course, a forgivable sin. But to have no reaction whatsoever to Thompson's fleeting appearance on screen seemed to cross some sort of line; for a man so easily caricatured — visit any Halloween party in a suitably hep environment and you will find at least one man with mirrored Saigon shades, a bucket hat, and a cigarette holder — our physical representations of him are predominantly based on Depp and photographs. Seeing him alive, breathing, surrounded by a representation of the culture he so aptly observed and sprang from, is something like catching el chupacabre in the midst of gorging on a goat. He existed, to me, primarily in words, both his own and others. To put a moving face to the ink is one of the movie's highlights.
Big screen dimensions do little to actually enhance the film, besides the pornographic kick of seeing everything writ large and made to be unavoidable — perhaps the greatest representation of the American Dream, come to think of it — but that is often the selling point to late night re-screenings such as this one, other than the voyeuristic appeal for the people watching crowd, who may be drawn for a chance to see some of man's strangest and most foul designs, much like scientists who climb into their submersibles and head into the blackest depths of the ocean to observe fantastic creatures who could not exist in the worst nightmare.
The theater was a fitting home, lofted high above street level in an eerily empty shopping complex, a beauty school at its base and an LA Fitness at its crown, with the maze of staircases and doors and hallways the perfectly twisted analog of how a drug person sees a straight line. As I left, I looked down over the railings into the massive square at the building's center, an abandoned food court in its basement, straddled by stairs and crossed with a massive X by escalators, and briefly lost myself, my head becoming unmoored — a combination of the alcohol, lack of sleep, traumatic past few weeks and the saturating idiosyncrasy of the film — and set adrift in the savage weirdness of it all.
Walking down Broadway, a well-built man in a robin's egg polo shouted across the street to me. "Hey bro, where's the gay district?" An odd thing to shout in most any other place in Chicago, but here in Lakeview, a not uncommon query when it was past 2 a.m. and one was searching for the late bars. I pointed him on his way and continued to zig-zag down the thunderstorm-slicked sidewalks, passing a barren concrete shell, a commercial graveyard, where Surf emptied out onto Broad. A rat darted halfway into my path, the sickly orange from blinking construction sawhorse warning lights shining off of its impossibly black eyes, before it faded into the ether as fast as it had appeared. I had to wonder whether or not it was even real. The fuckers are fast, but not that fast.
I shared the elevator to my apartment with two girls, all dark hair piled on their heads, print tank tops and short shorts and the glistening residue of sweat, lust and mild shame one acquires on Clark Street. "These elevators are so slow," the one said to me, dragging out the last word for emphasis.
"Indeed," I said. "But at least it doesn't smell anymore. One night, I walked in, and that corner" — I motioned to where the other girl was standing, in the corner in front of the buttons — "was caked in vomit. It reeked for days. If I called this one, I would lean in, hit five to send it on its way, and call the other one."
The loquacious girls looked at me from beneath her towering tangled bun. "That's smart," she said. "I've found the ones with the dog piss."
They left me on three and I took the last two floors in silence. Walking down the wretched hall — not particularly wretched, just the kind of wretched that all apartment building halls are wont to be — I could hear a woman in one of the other rooms. She made a sharp, staccato sound, and I could not tell if she was laughing or crying.
—
B. David Zarley is a freelance writer based in Chicago. You can find him on Twitter, @BDavidZarley, or check the bars around Wrigleyville on any given night.