Afropunk Festival Returns to Brooklyn in August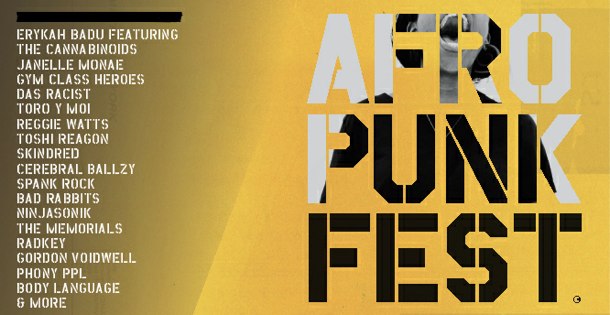 The eighth annual Afropunk Festival will take place at Brooklyn's Commodore Barry Park on August 25th and 26th. The 2012 festival brings together its most stellar lineup yet, including Erykah Badu featuring the Cannibanoids, Gym Class Heroes, Janelle Monae, Das Racist, Skindred, Toro Y Moi, Reggie Watts, Spank Rock, Ninjasonik, Toshi Reagon, Straight Line Stitch, The Memorials, Bad Rabbits, Gordon Voidwell, Cerebral Ballzy, Phony Ppl, Body Language, and more.
In addition, the largest street skate and BMX showcase returns with the Battle For the Streets Skate and BMX Competition. The event will feature the nation's best amateur skaters and BMX riders in a competition to be judged by top professionals in both sports.
For more info, visit afropunkfest.com.