KING TUFF – S/T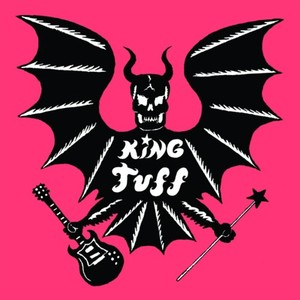 This record was released at the right time because its joyous combination of bubblegum pop, glam, and garage rock make it the perfect summer album. It would sound awesome blasting out of your car on a nice meandering road trip to the beach or wherever it is you go during this time of year. Regardless of King Tuff's past musical lives in such bands as Witch or Feathers, you have to give him credit for crafting an album that celebrates the joys of being young (or, at least, young at heart for us oldies) so fully.
"Anthem" gets the party started with a glam stomp, hand claps, and a gripping solo. "Alone And Stoned" celebrates the joys of listening to music on your headphones, while "Unusual World" is a wistful acoustic-driven song that looks at growing up from a totally outsider perspective. "Keep On Movin'" will indeed keep you moving, while "Bad Thing" contains a hard rock bite, containing a solo that wouldn't be out of place in Tuff's old stoner rock combo. "Stranger" sounds like super-charged Chuck Berry, and "Swamp Of Love" is a glammy keyboard-laden ballad that recalls Mott The Hoople at their most introspective. "Hit & Run" closes the album in high fashion and spirits.
So, next time you are getting together some friends for a barbecue, don't forget to include this album on the shopping list. Trust me, along with the food you serve, this fill your guests with delight.
(Sub Pop Records, 2013 Fourth Avenue, Third Floor, Seattle, WA 98121)