SMOKING POPES – Complete Control Sessions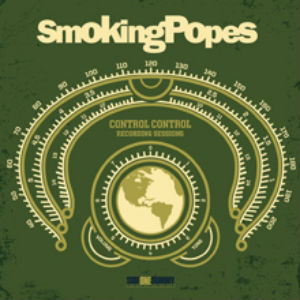 Chicago's Smoking Popes flirted with mainstream popularity during the '90s. Their music was a mix of rowdy punk and pop with vocals that were closer to Frank Sinatra or Tony Bennett than Eddie Vedder. Musically, their sound was not much different than the conglomeration of bands fighting for air time, but Josh Caterer's pop crooner vocals made them stand out. Just when it seemed that they were poised to become the next big thing, they quietly disappeared from the musical landscape. After years of on-and-off playing, Smoking Popes have been performing steadily for the past five years, even cranking out two solid full-length albums: Stay Down (2008) and This Is Only A Test (2011).
Their latest release is the EP Complete Control Sessions, recorded for Side One Dummy as part of their live series, which bears some resemblance to the classic Peel Sessions. Consisting of five tracks, the Popes offer up something old, something new, and something covered.  "Let's Call It Love" delivers catchy lyrics and guitar-heavy rhythms, while "Hey Renee" is close to being the perfect power-pop tune, with a Material Issue/Cheap Trick feel to it. Pulling from their back catalogue, the Popes offer up "Grab Your Heart And Run" and "Write A Letter." Representing two distinct periods in their career, each tune sounds sharp. Finishing off the EP is a cover of "I Dreamed a Dream," from Les Miserables. While not a typical cover to find on a rock record, it allows Caterer to show off his vocals — still, I am not sure it is the right fit with the other four tunes.
Complete Control Sessions is much better than I had anticipated, which may be due to the fact that it is a live recording. The Popes' material has always been better live than recorded, and even with the cover tune being a little weak, the five-track EP is a solid addition to the Popes' extensive collection.
(SideOneDummy Records, PO Box 2350, Hollywood, CA 90078)