PINKISH BLACK – S/T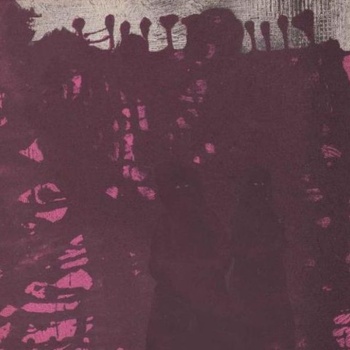 The story behind this band's name is just as grim as the music they produce. A while back, Daron Beck and Jon Teague, the duo that comprise this band, were in another band called The Great Tyrant with a guy named Tommy Atkins. One day, Beck and Teague went to visit Atkins and discovered that their band mate had killed himself. They walked in on his dead body and described the walls as "pinkish black." Taking this gruesome description as their new band's moniker, they set out to make some of the most harrowing music to come down the pike in recent memory.
Pinkish Black are the soundtrack to a nightmare. They are combination of creepy horror movie synths, slow, grinding doom rock, and a bit of off-putting noise rock. In a way, it's like Joy Division jamming with Khanate, or a slower, horrific version of the Birthday Party. Over the course of seven songs and 33 minutes, they keep the listener in their death grip.
Lead track "Bodies In Tow" establishes the mood from the get go with its swirling, evil synths and slow motion death rock. The vocals are buried deep within the wall sound, and often sound like a cry from the abyss. "Everything Went Dark" opens with a mock-serious spoken word intro before stunning you with two minutes of slowed down punk rock horror. "Passerby" sounds like the theme for a really nasty '80s European cult horror film, while "Fall Down" mixes outright noise with a catchy, downbeat melody. These songs are just a small sampling of some of the creepy delights that lie within its grooves. This isn't an easy album to get into, but once you give it a few listens, you will totally be entranced by this duo's meditations on death. This is definitely not for the weak.
Still, some very compelling music. Check it out if you want to ride on the dark side for a bit.
(Handmade Birds, 8992 Preston Rd., Ste. 110-416, Frisco, TX 75034)