DYNASTY ELECTRIC – S/T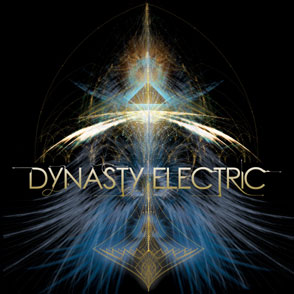 Dynasty Electric is somewhat difficult to pin-down for discerning, taxonomically-inclined listeners. The Brooklyn-based duo's eponymous release tastes of Parliaments and lipstick the same voluptuous red of maraschino cherries, looks like sweat-ran mascara, tangled masses of black hair, golden chains and bracelets and earrings, and feels like the moment at a house party when you are crushing and railing painkillers off of a best friend's business card with the freewheeling girl of your dreams while a drunken bunny bangs incessantly on the bathroom door. They are at times exhilarating, haze-inducing, and quizzical, but are never boring.
Jenny Electrik's voice is beautiful and captivating, capable of a wide range of dance-inducing timbres and flavors, running from smoldering to airy depending upon the instrumentation backing her. She may find herself on something rather atmospheric one moment, and pure saccharine dance the next; her ability to handle this delicate nature is a key component to making certain the different tastes end up endearing rather then grating.
Unfortunately, Electrik takes a back seat on two cuts and, unsurprisingly, they are the worst Dynasty Electric has to offer. While mining '90s dance rap is admirable and interesting — Kool A.D. seems intent as well on bringing back the decade's dance music, which would go well with the green underbrim on my snapback and my Buffalo Bills Starter jacket — the end results fall flat, particularly compared to the rest of the album. Of the two pieces afflicted in this way, "Nowhere to Hide" comes out worse for the wear, mainly because the tongue-in-cheek drollery of "Jet Plane" allows the listener to take it, on it's face, as somewhat of a joke. The instrumentation on both is fun, particularly the funky, UK R&B-having-a-baby-with-Eurodance stylings of "Jet Plane," but rappers stretching the word "radio" into one bar is a serious turn-off that kills the whole vibe.
Dynasty Electric's forays into nu-disco and more straightforward dance pop fare much better; the smoky, slinky camp of "Automatic Ecstatic" would play well on the same back alley, Cimmerian dance floors Jessica 6 inhabits. The true depth of Electrik's surprisingly formidable vocals are on display here, as a come-hither sexuality creeps in along the edges. A similar gravitas carries the infectious "Just Like That," backed by catchy synth lines. "Feel it in Your Body" could be the best top 40 summer dance track you had yet to hear, with a transcendent hook, while "All This Time Turn It Up" contains shades of vintage Britney Spears, which should be considered a compliment.
Blood and glittery, dirty electric dance crunch powers "Electric Love." Driving and lustful, the song's lofting bridge plummets into a heartbeat throb in a moment of overwhelming bliss that only someone who has ridden the euphoria of a fine dance crowd or Molly could fully appreciate, a flashback-inducing experience that feels almost like the drug's cresting wave.
Opener "Oasis" is the album's standout, a dissociative, trance-inducing slice of Ketamine music that sounds like it would be the result if Hercules and Love Affair spent hundreds of dollars on Robotussin then proceeded to get dark and weird in a black-lit loft. The cutting quality of Electrik's delivery is best exemplified here, as she easily knifes through a shimmering, slightly unsettling soundscape and light, wobbly hook to anchor the entire track. It is a fine piece of electropop, and the flavor that would be most promisingly pursued should Dynasty Electric ever feel the need to limit themselves to just one. But why limit themselves when an entire array of druggy, kinetic sounds and textures await them, and they seem more than competent at most?
(No Shame Records, no address provided)
—
B. David Zarley is a freelance writer based in Chicago. You can find him on Twitter, @BDavidZarley, or check the bars around Wrigleyville on any given night.