ROCK OF AGES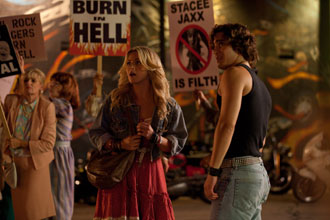 Warner Bros.
123 min., dir. by Adam Shankman, with Julianne Hough, Diego Boneta, and Tom Cruise
Musicals that base their stories on previously recorded music are clearly trending on Broadway. Jersey Boys, Movin' Out, and, of course, Rock of Ages. Moving to the big screen with none of the original cast in any lead role, Rock of Ages pours an over-sensationalized bucket of retro nostalgia all over its audience. Blurring the line between satire and outright mockery, Rock of Ages is an awkward trip through a redundant story.
Sherrie (Julianne Hough) is the small town Midwestern girl with big dreams of making it in Los Angeles. Drew (Diego Boneta) is the soft but connected youngster waiting to make a name for himself as a rock god. Amid the backdrop of a famous LA club in danger of closing down due to back taxes, the new mayor's crazed wife plans to destroy rock and roll, including shutting down that club. As such, Drew and Sherri experience a lifelong heap of ecstasy and troubles in the span of two weeks. Everything comes to a head the night Stacee Jaxx (Tom Cruise), the legend himself, will play for the last time with his band at the club that started it all for them. On this night, everyone's life will change.
I'm not a huge fan of over-extravagant musicals. Still, Rock of Ages is far too much a jigsaw puzzle made of clichéd plot lines to be enjoyable, regardless of genre. There are many laughs to be had, but it's a hard to separate when the film makes fun of the base it's built upon, or when it simply plays sweetly off the growing love for everything '80s. It feels dishonest when a plot rips to shreds the major aspect of the film that makes people want to see it in the first place.
Wide-eyed and slack-jawed, I was dumbfounded by the extremely weird and silly leanings the film employs. From the crazy monkey Stacee Jaxx owns, to the point where he actually sings to a reporter's ass, I figured someone slipped something in my drink that turned everything I saw into a world of over-capped goofiness. The progression of the film's tone is bewildering.
Instead of seeing this movie, I could have easily walked into any karaoke bar and witnessed two plastered fools make out after singing "Don't Stop Believing" and gotten the same story people are paying to see. Besides that fact, songs are piled on top of each other. Two songs are frequently performed simultaneously as some sort of music battle, and multiple numbers begin before the previous one fades out. Sure, this is a musical, but let's pull back a bit and flesh out your story. Relying on tired plots so more songs can be crammed in is a poor way to structure a film.
The world has reached a point where it's been overindulged by wacky satire about dated styles. The only way it can become interesting is by making it bigger and even more outrageous than before. It's at this point when even something that can be considered entertaining becomes mind-numbing. If you want to watch the '80s hair band version of Breakin' and Breakin' 2: Electric Boogaloo, you're in for the ride of your life. If not, get ready to want to smash your head against the wall.
—
Matthew Schuchman is the founder and film critic of Movie Reviews From Gene Shalit's Moustache and also the contributing film writer for IPaintMyMind.