CHARLI XCX – You're the One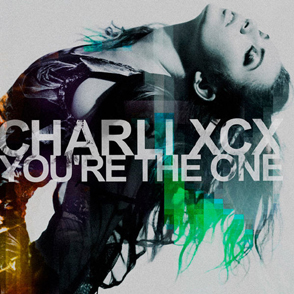 For a genre so infused with post-punk angst and shimmering electronica, there is little romance in goth pop. That is not to say that the canon lacks emotion, as lust, love, and sadness are relatively constant themes. What separates them from their purely pop counterparts is the delivery of these feelings without the saccharine romance that so often coats and chokes said counterparts. It is replaced instead by a thick, glossy darkness that lends the form its name and serves as the taxonomical key for a burgeoning genre from the United Kingdom (where else?) while simultaneously dovetailing nicely with the black velvet sinister feel cultivated in hip-hop by artists like Rick Ross and Kanye West — which adds some teeth to the admittedly Robert Smith-leaning lyrical content.
The treatment of love as more than bliss or madness ends up striking a chord that most do not care to hear; that it is not our most simple and pure emotion, but is complicated, painted in shades, and is perhaps best represent by music that is pulse-quickening and dance-invoking without rotting the teeth from our gums or reducing such an existential aspect as love to the interior copy of a Valentine's Day card. And like The Cure and Joy Division before them, the use of hopeful lyrics and slightly macabre imagery and aesthetics achieves this end for the goth pop artist, giving us a more accurate portrait of what love is, with its yearnings and blessings and challenges and rewards in tact.
Most of the acts associated with goth pop are female (Charli XCX, Natalia Kills) or fronted by females (The Good Natured), all of whom do a particularly keen job of translating the waif-ish wailing or somnambulistic dronings of their post-punk forebears into fully realized vocal performances, capable of enthralling beauty or raw, nerve-wracking vulnerability; XCX's rendition of "Nuclear Seasons" at Dalston Heights is enough to bring one to tears, although whether from joy or sorrow is difficult to say. She is simply that powerful, stripped down to nothing but her vocals and a backing track, stripped even of that dark, pink and black lacquer, and both she and goth pop end up the stronger for it.
The "Nuclear Seasons" contained on You're The One does not carry itself nearly so lightly. It arrives on a rapidly crescendoing wave, expanding into a thick, textured synth hook, counterbalanced by shimmering accent notes and melodies, and juxtaposed by XCX's raw and clean vocals. It is catchy and domineering, passing the Pappademas test and pushing everything else out of the listener's frame. It achieves such a bloody task through means that never feel brutish, like Lex Luger, or cold and scientifically sugarcoated, a la "Call Me Maybe," but rather through a legitimate aural experience accessible enough to throughly be considered pop — a compliment — but delivered with that black veneer, alluring and dangerous even in the face of its undeniable danceability and infectiousness.
"Nuclear Seasons" loses most of its majestic qualities in Balam Acab's remix, rend limb from limb and the pieces laced intermittently into a disjointed pastiche that, while intriguing and not lacking in originality, does seem somewhat out of place on You're The One as a whole. Thought of as an extra, sans context, the song serves as an interesting reinterpretation. Blood Orange — what a fantastic name! — contributes a more cohesive cut in his rendition of the eponymous track; the haunting synths and plinking accents, combined with the dread, pallbearer shuffle of the percussion and XCX's vocals, matches the timbre of the original — and goth pop as a whole — pitch-perfectly.
It is within the original "You're the One," however, that that specific timbre is spelled out in such a base way that it becomes a microcosm of goth pop itself, polarized and halved and laid out to bare, like a gross anatomy cadaver, with all of its parts and guts labeled, ready to be easily digested and ascertained, to provide a template for what this is. Though constructed so, "You're The One" is not a heavy-handed monster, or even a misstep, although one may think it to be in the opening moments. Rather, it is an intriguing, simplified look into a burgeoning aesthetic, one whose two key components — pop approachability and a Cimmerian undercurrent — usually blend together, but, in this case, separate like oil and water.  The opening and verses are plodding, heavy, and exceedingly dark, dissociative as ketamine, and XCX delivers her syllables clipped, as if through clenched teeth. She then soars on the hook, opening up with the music, an upward spiral that reaches altitude at a dizzying speed, yet manages the segue so seamlessly that the juxtaposition seems natural, as if this were the only way music could possibly sound. It is an intriguing shift, shooting from angel dust to ecstasy, and one only the genre, and perhaps XCX in particular, could have pulled off successfully.
Charli XCX is young, prone to swings such as "You're the One" or the similarly constructed "Valentine," and carries upon her slim shoulders the epitome of an entire musical style. Every piece of her — from the London warehouse party roots, to the mass of tangled black hair, to the depths of her dark eyes — seems destined for goth pop, to sing what she sings and create what she creates, and all of the evidence points that the muses could not have picked a better vessel. XCX is the living embodiment of the genre's dichotomy, of the love and emotion minus the maudlin gilding and delivered on a tombstone, albeit one from the grave on which people dance. In short, Charli XCX will rip your still-beating heart out of your chest, and you will fall in love with her for it.
(IAMSOUND Records, 830 Traction Ave., Suite 3E, Los Angeles, CA 90013)
—
B. David Zarley is a freelance writer based in Chicago. You can find him on Twitter, @BDavidZarley, or check the bars around Wrigleyville on any given night.