THE MAST – UpUpUp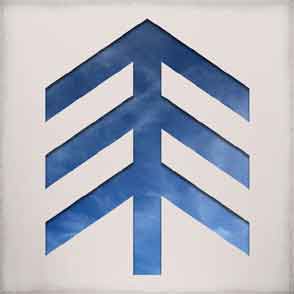 The remix is a polarizing aspect of music as a True Art; it is either underrated or lionized, a key component of creativity and expression that is a True Art in and of itself or a cheap co-opting of someone else's work. It is as simple — and galling — as the four-to-the-floor hack job that radio stations graft onto songs, big centipede scars still showing and staples sticking out, to amp up the BPMs and allow for more ad time or the complete and total teardown of a piece of music, using the original's viscera to paint an entirely different picture. Entire musical subgenres are based around the form, ranging from the widely despised yet admittedly fun "brostep" remixes of various top 40 songs, to the syrup-soaked world of DJ Screw's chopped and screwed mixtapes.
Remixes exist almost solely in the electronic, dance, and hip-hop world, genres that can be powered by a laptop and cocaine, and where sampling and digging in the crates were the mores from the very beginning; rockers may play another's song, but they do not lay claim to the new interpretation as their own. This is where the remix varies from the cover. It is less an homage and more a flattering appropriation, one which, when done at its highest levels, leaves no doubt that the artist-in-question intended to bend and disfigure the piece to their own image, meant not necessarily to honor the original, but to propagate it, albeit in a mutated form; to build upon it, the bones and gristle of the first cut giving life to something new.
In place of B-sides, many artists may now choose to release a single as an EP with a bevy of its brethren, as Brooklyn-based dyad The Mast decided to do with "UpUpUp." The original is a shaky, jangling piece of nightmare taffy, all stretched-out spiderwebs and subversive, rattling drums, with Haale Gafori's vocals dripping like poison, the clear constant and sonic anchor. "UpUpUp" is something of a tease, threatening to build but forever withholding a drop or release, slithering about and ratcheting the tensions as it goes, an intriguing piece of electronica with a dark undercurrent that is both uncomfortable and enthralling.
Haale's vocals are, unsurprisingly, the key element holding most all of the remixes together; while some artists all but burned the original production to the ground, she is always there, her knifing siren calls the last echoes of The Mast's original concept.
The Man With The Stuff remix hinges upon meshing those vocals with the preternatural throb most closely associated with dubstep music. Haale's voice shimmers and rattles about atop the ubiquitous bass line, but The Man With The Stuff avoids the thoracic cavity reverberating depth of some dubstep — and most all brostep — acts and instead lends the wobble intriguingly melodic characteristics, allowing it to snake and dance rather than simply pulsate and destroy. In this way, it works in tandem with the vocals, rather than overriding them, lending the piece a more complete feel and foregoing images of alien space craft and action movie trailers for a more nuanced approach.
oddlogic adds a touch of the macabre, monastic air currently in vogue thanks to the likes of Clams Casino finding traction in the mixtape world. "UpUpUp" finds itself soaked in the dark and viscous atmosphere, larger and more grandiose due to the throaty instrumentation, which includes artificial chorales and a new, thick, sinewy spine. Beautiful Bells too sticks to the The Mast's spectral spirit in an almost total re-imagining. An ethereal opening gives way to a truly haunting piece, made all the more unsettling by its hollow, vaporous bottom line and the inevitable sense of doom it achieves by sounding as if it is mere seconds away from falling to pieces, breaking up and dissolving like a ship dashed against the rocks in some sort of slow, torturous surf. Wails and moans back Haale here, pushing her to new heights of spectral fantasy. One cannot help but listen to the last few moments of the remix as death throes.
Bryan Noll took the opposite direction on his rendition, the only other piece that renders "UpUpUp" almost unrecognizable, going instead with an organic, indie-pop sounding approach that makes the song into a dreamy piece of, if not sunshine, then at least an overcast day the same light gray of embossed stationary.
The remix that could perhaps be most readily identified as what the average listener would consider a "remix" is that of Jared Saunders. What begins as a standard but impeccably done four-to-the-floor treatment transitions into an excellent, lush, and syncopated drop that comes as somewhat of a pleasant surprise, a piece of songcraft that is more intricate than it at first appeared whilst retaining an approachability that the The Mast's original lacked. Saunders's edition of "UpUpUp" is one for the dance floor, albeit a hep and knowledgable one, the kind that pulses with nu-disco or a revitalization of '90s dance music that the rest of us will be moving to months into the future.
A remix EP is always a calculated risk, even if the risk is lessened by the band's demographic being predetermined to fall on the remix-as-True Art side of the spectrum, as it can come across as, in varying shades, lazy or boring. With an enticing original offering and five distinctly different flavors, however, this is a problem that The Mast and their collaborators wholeheartedly avoid.
(Channel A Records/Playloop, no address provided)
—
B. David Zarley is a freelance writer based in Chicago. You can find him on Twitter, @BDavidZarley, or check the bars around Wrigleyville on any given night.