SPRAYNARD – Exton Square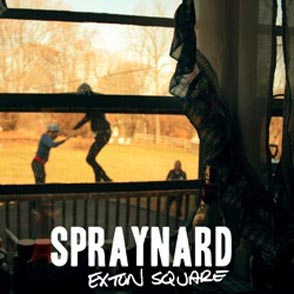 A search on our old friend Google tells us that Exton Square is a shopping mall in Chester County, Pennsylvania, and Spraynard are from that particular area. But just because this was named after a shopping mall doesn't mean it sounds like mall-punk. I can't imagine that hearing this in a shopping mall anywhere in the world and that is a good thing.
Released in a limited edition of 1,000 seven-inch vinyls from Asian Man Records, this album contains four brief, punchy songs that impress like few EPs do on first listen. The subtle tones of the production are a powerful companion to the rough-edged but impassioned vocals that draw you in. With the vocals high, in the mix it allows the ear to easily detect some subtle couplets and the smart lyrics.
A highlight is "You Can't Get There From Here," a fly-by listen clocking in at just under two minutes that succinctly addresses the topic of wandering around towns aimlessly. The longest track, "Can I Borrow A Feeling," features polished, well-produced tones. The only thing I could complain about is that two more tracks would easily have fit in here to give more satisfying listen and round out an already impressive collection.
(Asian Man Records, PO Box 35585, Monte Sereno, CA 95030)