ROYAL HEADACHE – S/T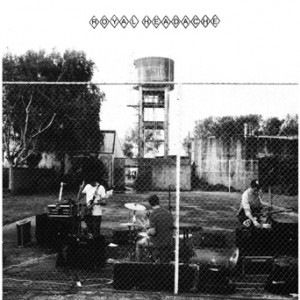 You have to hand it to the folks behind the What's Your Rupture? label because if anything, they've been scouring the globe to find the best in punk rock to bring it to the United States. Last year saw them bring over Iceage to major coverage and kudos, as well as some great and deserved reviews and live performances. Well, this year, they've gone down under and have delivered Royal Headache, who are another band that should be on your radar.
Royal Headache play energetic and noisy garage rock, topped off by the smooth, soulful, and naturally charismatic vocals of lead singer Shogun. Think of Sam Cooke fronting a more manic Sonics, or if you want a more current comparison, Shogun has pipes just like garage rock major domo Mark Sultan. They are that good. And they play as the perfect counterpoint to the band's manic grind.
Very few songs on this band's 12-song debut exceed the two-minute mark, with most of them hovering under two minutes. They are short, sharp, ultra-catchy shocks of rock, punctuated by the vocals — they waste no time in getting in, rocking out, and then getting out, with no muss or fuss.
Opener "Never Again" sets up the template with it's blazing bass, guitars, and drums topped off by the vocals of Shogun. From there, the band rocks early and often. "Psychotic Episode" throws some catchy and sped-up power-pop into the mix, while "Down The Lane" has a nice sing-songy hook to it, and "Distant And Vague" slows it down a bit, featuring some nice raw R&B. Plus, on the two instrumentals — "Two Kinds Of Love" and "Wilson Street" — the rest of band (guitarist Law, bassist Joe, and drummer Shortty) show off their skills.
For all fans of garage rock this is a no-brainer. Seriously, anyone with a love of the fast, noisy, and catchy should find a lot to like about this album.
(What's Your Rupture?, 225 West 13th St., New York, NY 10011)