DESTROY NATE ALLEN – With Our Powers Combined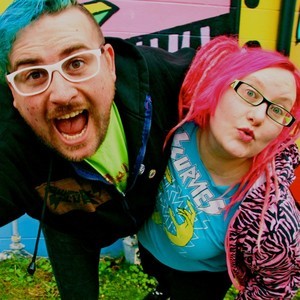 Do you like chaotic keyboards? I'm not just talking about furiously stroked keys — I'm talking about seemingly random, high-pitched, manipulated notes that scratch through the air like nails on a chalkboard, while somehow managing to be oddly melodious. If you do, then the opening track to Destroy Nate Allen's With Our Powers Combined will have you hooked. From the beginning of "Waking Up Is Hard to Do," it becomes abundantly evident that this duo thrives on high energy channeled through short bursts of song.
The album sounds like that cassette by your favorite high school band that you may or may not have stolen while seeing them at a show at the local VFW. It is scratchy, bare bones, and has that signature self-produced sound reminiscent of the underage days of concert-going.
The lyrics are written for the teenager suffering from a serious case of senioritis and angst. Pleads for a few extra moments of sleep sit alongside protests against finals and ballads of "real love." "We Talking Occasionally On the Internet" is an anthem to AIM instant messenger relationships; to chatting with friends but never really knowing them. "Chick-Flick" is puppy love in all its glory, and "Long Weekend" is an unexpectedly downtrodden tune about the failings of that extra day off washed away in a drunken haze.
The band incorporates acoustic guitars, electronic keyboards, sparse percussion and high-pitched vocals to convey their messages. They rely on short compositions that flow seamlessly from one to the next. There are 10 tracks in all, and not one of them clocks in above three minutes. This feverish style of play helps to keep things engaging in party because of intense energy and in part because there is little time to process one song before being shoved into the next.
It's hard to tell if Destroy Nate Allen made this album as a joke or with serious purpose. Regardless of their motives, this married couple has created an entertaining, albeit short creation that seems oddly nostalgic.
(High Endurance Records, no address provided)