Interview: No Red Flags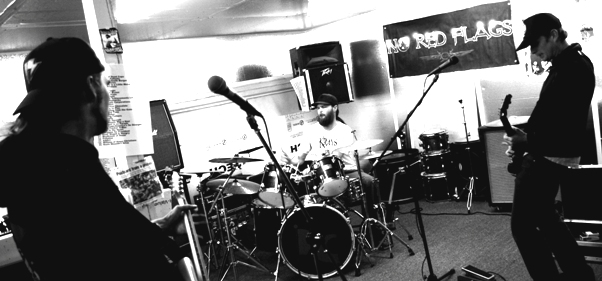 Back in the late '80s, when most kids were playing video games and thrashing on skateboards, Jason Smith was running two paper routes for The Oregonian. Why? He wanted to buy an electric guitar. For years, he begged his parents to buy him one, but they never gave in. Like any kid with a dream, Jason was on a mission: at the age of 14 he converted an old Huffy bike into a BMX lookalike and took matters into his own hands.  After a few years of pedaling the daily news and pinching pennies, he purchased his first electric guitar, and immediately taught himself how to play. Then, one by one, he taught his younger siblings the essential chords until he made his own band.
Combine five brothers — Jason, Justin, Damien, Mike, and Patrick — under one roof and you have a modern day version of the Ramones, a tight family of musicians that jams out together and loves playing music for the sake of playing music. In between and during gigs they argue, fight, talk shit, drink, and smoke like sailors on leave. It is all a part of being in a family of five boys. No Red Flags is a band that spans the punk rock spectrum, from skate to hardcore, capturing everything in between.
No Red Flags consists of Jason (known as Smitty) on vocals and lead guitar, Mike (known as Mad Mike) on bass and vocals, and Patrick (also called Patti) on drums. Justin and Damien are no longer in the band, but sub in for Mike and Patti from time to time. I have seen the band play live three times, and each show is a unique experience, with a lot of shit-talking between Mad Mike and Smitty as they switch back and forth on the lead spot. It is constant entertainment. When the music kicks in, though, the boys pour their hearts and souls into their instruments, wailing out punk ballads and synchronizing their power to deliver a familiar, fast, and playful experience.
SPUD was the first band Smitty formed with his brothers in Nampa, Idaho. SPUD stood for Support Punk Underground Development, and the original line up featured Mad Mike (bass andvocals), Smitty (vocals and lead guitar), and youngest brother Damien (drums). SPUD put out their first album in 1998 and moved to Portland shortly thereafter, where they changed the band name to Brother Spud and released their next album, Run Amock. Essentially, this formation was the beginning of No Red Flags sans Patrick on drums.
No Red Flags came about in 2004 with the original lineup of brothers until Damien took his drumming skills to My New Vice (another local Portland, Oregon band) in 2005. Patti, the youngest brother, became the new drummer. Mellow and relaxed in personality, the manner in which he smashes his drum set with controlled rage is a stark contrast to his demeanor. Of course, the carefree manner can sometimes extend to the stage — once during a show at Dilly's, I watched him walk off the set to have a few more drinks. Luckily, Damien was at the show and slid behind the drum kit until the police shut down the show.
Each brother has something to love about them — a quality and characteristic that is genuine and unique. I met Mad Mike while having a beer at a local dive bar in northeast Portland. We hit it off right away thanks to a mutual love of art and music. Mad Mike doesn't just play a mean bass; he also paints and is responsible for tons of murals in the Pacific Northwest. He also plays bass for MDC which is well-respected for their longevity in the punk scene, going back to the 1982 cult hit "John Wayne Was a Nazi." Mike still writes songs for MDC and splits his time between touring with them and jamming out with No Red Flags. When I asked him what it was like to be in two bands he said, "It's like having two fucking girlfriends."
No Red Flags comes on strong with a connection only brothers can have. They argue during rehearsal as much as they do on stage, and someone is always showing up late, though always ready to play. I was invited to the rehearsal studio one night as they went through a set, and my mind was blown. I sat in the recording space across the street from Billy Ray's on Portland's MLK Boulevard and soaked up the pure sound of electric guitars, drums, and vocals. Many drinks and even more smokes later they shut down the session. I was fortunately able to shoot about 30 photos during the set, as the band would lose the rehearsal space a few weeks later due to noise complaints.
The last time I saw these guys was in Lake Oswego at Smitty's new place, complete with bonfire, barbecue, and all of the fixings of a long weekend embedded in the sticks. Smitty makes a strong effort to keep the family together and have some fun between tours and full-time work. He is the keystone of the band and holds his brothers close. The sound of the band reflects this closeness, and all the ups and downs that both families and bands can relate to. No Red Flags are both. You can look for their new album on vinyl to appear later in 2012.