MOONRISE KINGDOM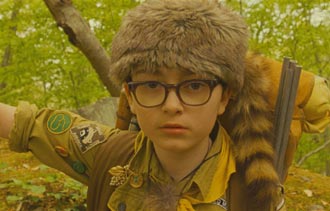 Focus Features
94 min., dir. by Wes Anderson, with Jared Gilman, Kara Hayward, and Bill Murray
There will always be something undeniably pleasing in Wes Anderson's films. He may be offender number one when it comes to repeatedly producing the same style, but the different views of one similar theme are inevitably interesting. Breaking bits of his mold, Anderson uses the crux of young love as the backbone for story about the importance family and not being alone. Fans won't be disappointed, though the cynics won't be surprised.
It's 1965 (yes, a Wes Anderson movie with a definitive year!) and Scout Master Randy Ward (Edward Norton) has awoken to find that troubled Khaki scout (a fictional boy scout organization) Sam, has fled the camp site. Around the same time, Walt and Laura Bishop have realized their daughter Suzy has run away. After a chance meeting a year prior, Sam and Suzy (newcomers Jared Gilman and Kara Hayward) secretly planned their escapes via an exchange of letters. Both confused and troubled 12-year-olds, they run away together hoping to find in one another what they don't in their superiors. As Suzy's family, Sam's troop, and one lonely sheriff search for the pair, a dangerous storm prepares to make landfall on New Penzance Island.
No one should be surprised that this film has a slow start. Anderson has to introduce you to the new world in which he's built his troubled fantasies, and each character must be established. Once that's completed and the two young lovers finally meet, the entire affair speeds up. As in previous features, Anderson injects blissfully ingenious sections into his stereotypically quirky formula. The montage illustrating the children's communications to each other over the year prior to their escape is a whimsical journey through the freakishly un-childlike eyes of these protagonists. Anderson usually focuses on stunted adults who never had a real childhood. Here, the formula is flipped but the characters and motives are the same. By shifting the paradigms through age, it opens a whole new door to what the writer/director is always searching for.
From presenting such young children as the film's leads, to pinpointing a specific time and year, Anderson has slightly opened up his realm of film making. Most shocking of all, though, is that this is the first Wes Anderson film to bluntly offer an easy-to-decipher message. Book-ended in the very first and very last minutes of the film by a recording that explains how to build a symphony, Anderson (and co-writer Roman Coppola) lay a piece of paper in front of your face that reads, "Here's what this story is about. Sit back and let it sink in." It's still hits the same points as his other films, but the spin this time is fascinating.
The film contains some pretty frightening and creepy imagery at times — and I'd like to see Anderson fully branch out and shed his eccentric skin. I love his lush color palettes and his distinct brand of humor, but sooner rather than later, enough will be enough. That point hasn't come yet, though, and while Moonrise Kingdom is not a revolutionary work of art, it's the haunting cello in Anderson's every growing symphony of conventional unconventional-ism.
—
Matthew Schuchman is the founder and film critic of Movie Reviews From Gene Shalit's Moustache and also the contributing film writer for IPaintMyMind.