HIGH ON FIRE – De Vermis Mysteriis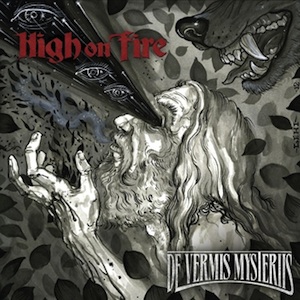 You'd figure with this band's track record that they would eventually release a bum album. Every classic band has one or two records they are embarrassed by, right? High On Fire have established a pretty high standard to this point and has produced an excellent body of work. Some critics were unhappy with the production of their last album, Snakes For The Divine, but in defense, that album contained some of the band's best songs, and the production fit what they were going for.
On their newest record (and second for eOne), Converge's Kurt Ballou was brought in to work his magic — and he does, as High On Fire deliver another vicious slice of aggression bolstered by the Ballou's rough style of production. In fact, this could be one of the band's best pieces of work.
But it's not all about the production — they have really stepped up their game on this one, delivering a diverse set of songs that are remarkably their own. They bear the band's stamp of quality, and show they aren't slowing down any time soon.
Opener "Serums Of Liao" kicks off the proceedings with a heavy repetitive riff and some dazzling drum work from Des Kensel. "Bloody Knuckle" and "Fertile Green" are thrash masterpieces, blown apart by some crazy solo action from Matt Pike. Much has been made of the band's riffs, which are always solid, but few comment on what a good soloist Pike is. Throughout this record, his various solos are always creative, inspired, and brutal.
"Madness Of An Architect" slows things down to a noisy crawl, while "Samsara" is mellow, psych-tinged instrumental that clears the pallett for the second part of this album. "Spiritual Rites" kicks things back up before leading straight into the epic seven-minute-plus doom jam, "King Of Days," followed by the title track, which is brief and nasty.
Once again, Pike and his guys have delivered another gift from the metal gods. This album is another contender for the "best of" lists at the end of the year.
(eOne Music, 22 Harbor Park Drive, Port Washington, NY 11050)