Watch: Arcade Fire and Foo Fighters Perform With Mick Jagger on "SNL"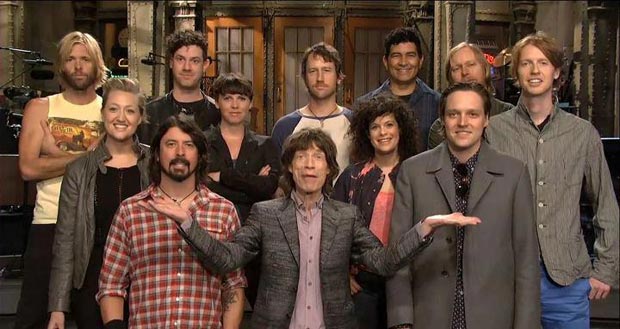 The season finale of "Saturday Night Live" featured a slew of musical performances by host Mick Jagger, who had Arcade Fire and Foo Fighters as his backing band.
Arcade Fire, with The Strokes' Nikolai Fraiture on bass, joined Jagger for a rendition of the Rolling Stones' "The Last Time," while the Foo Fighters and Jagger performed a medley of the Stones' "19th Nervous Breakdown" and "It's Only Rock 'n Roll (But I Like It)".
Arcade Fire returned at the end of the show to join Jagger and the "SNL" cast to perform "She's a Rainbow" and "Ruby Tuesday" in tribute to Kristen Wiig, who is leaving the show.
Mick Jagger and Arcade Fire: "The Last Time"

Mick Jagger and Foo Fighters: "19th Nervous Breakdown"/"It's Only Rock 'n Roll (But I Like It)"

"She's a Rainbow"/"Ruby Tuesday"