Interview: The Real McKenzies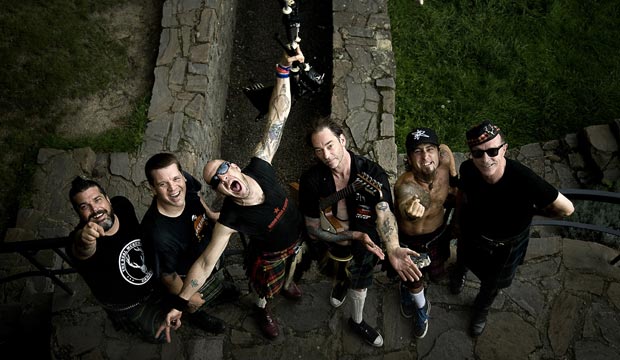 After performing for 20 years and having recorded 10 full-length albums, you'd think Canadian Celtic punks The Real McKenzies would be better known. While Irish-influenced punk bands such as Flogging Molly and Dropkick Murphys regularly play large clubs and arenas (and even a historic baseball stadium), The Real McKenzies continue to channel their traditional Scottish roots at dive bars and small venues across North America and overseas. Lucky are those who are in the know, however, as the McKenzies are known for putting on one hell of a raucous live party.
Despite the fact that their latest album, the recently-released Westwinds, comes four years after their previous full-length, the band has averaged a new album every other year for two decades — a prolific streak few others have matched during that time-span. And word may be getting out about The Real McKenzies: the band undertakes an absolutely massive worldwide tour through the summer of 2012 that will include stops at the main stage of Punk Rock Bowling and a ton of European festivals.
We spoke to Paul McKenzie just prior to the start of his band's tour to discuss the new record and the band's Scottish influences, as well as their growing appeal to fans of traditional Scottish music and poetry.
Four years have passed between your last studio release, Off the Leash, and your brand new album, Westwinds. Aside from releasing the live album Shine Not Burn in 2010, how did you all spend the downtime?
We spent our time touring, working day jobs to pay the bills, and working on music. [A lot of] time was spent guzzling beer and whiskey and dancing at the discothèque.
You have album titles that are humorous and, oftentimes, make reference to your hard boozing (such as Loch'd and Loaded, Clash of the Tartans, Pissed Tae th' Gills, 10,000 Shots). But Westwinds? Are you going soft on us?
"Soft?" Ye'd best mind your tongue. I am not harsh on this one, but if the band heard of you using this word in a sentence addressing us, there may be trouble. We are making cryptic reference to certain members of the band who are unusually (and uncomfortably) gassy and smelly. This is the wind that comes from the west. We are from Western Canada, hence Westwinds.
There are reoccurring nautical themes in your music such the new album title and songs like "Mainland." Is there any particular reason why you all draw inspiration from the sea?
I have been a sailor ever since I can remember. I am hooked on all things sailing, and I long to be on the ocean with a nice gaff rigger as we speak.
You're currently on tour supporting Westwinds (across Canada and then down through the States and off to Europe). Touring is important for a band, but what's the most important thing for the band to bring with you on tour?
Fire and knives, pickles and cheese, canned fish and crackers, and a good attitude.
I've seen you guys play live, and besides the boozed-up punks and rock and roll freaks at the show, there were a group of older, non-punk Scottish folks there who came out. Do you get that often? Do you find you have a strong non-punk, traditional Scottish fanbase?
Oh, yes. We do Robert Burns songs, as well as Sir Harry Lauder stuff. This greatly extends our fanbase to the more ecclectic of Scottish prose and music fans. We sometimes enjoy the company of four generations at our shows. That's nice.
Being Scottish-Canadians and playing Scottish punk rock, an obvious question is, have you ever toured Scotland? If so, what was the crowd response like?
We have been touring Scotland for more than 10 years. When we first arrived, no one wore kilts. Now everyone dons their family tartans at our shows. I feel good about reawakening a sense of history and tradition so late in our time.
What are some of the biggest Scottish influences on your band, both musically and culturally?
Sir Harry Lauder, Alex Harvey, Andy Stewart, Kennith MacKellar, The Corries, The Bay City Rollers…I could go on and on forever, but you get the picture surely.
You have tunes that are musical adaptations of Robert Burns poems (Scotland's national bard) and others that are old Scottish folk songs. Who picks which songs to perform? What's the process like for selecting what gets added to the band's repertoire?
Not all ancient material is suitable for our brand of rock and roll, so we are greatly meticulous about the material we choose to play. There is such a great abundance of it that we are never without anything to do.
What is your first punk rock memory?
Getting my teeth kicked in and my nose and cheekbones broken by a fascist greaser.
Being on the older side of most punk bands, you've seen and done plenty. What would you tell some young whelps who want to start up a band?
Drop everything and run back to your parents house, stay in school, get a job. If you don't do this, you had better really be dedicated to totally ruining what may be deemed a "normal life," because in this business, there is no normalcy.
I wish to add that I thank all of those who have supported and partied with us through the years, and I hope to see you all soon. I will be at the merch booth and I wish to have a beer with everyone. Come and see me, don't be shy.