ELECTRIC JELLYFISH – Trouble Coming Down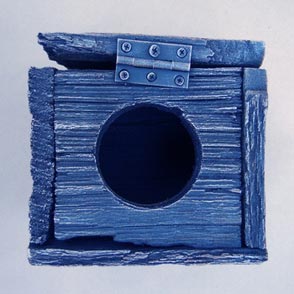 The descriptions "dark" and "heavy" come to mind when listening to the music of Electric Jellyfish. Thunderous guitar noise, headache-inducing percussion, and howling vocals bore deep into the listener's ear hole, inviting them along on the experimental journey.
The Australian trio thinks outside the box, mixing whatever melodies, sounds, and noises best fit their compositions. Their lyrics are intense, bordering on angry — think of them as a harder, angrier Sonic Youth. While short, their latest output — the two-song EP Trouble Coming Down – is a perfect introduction to their music.
Song one is the title track; the music is brooding and the vocals are frantic. The second track, "Nothing," is a little calmer, but not by much. It is an example of how Michael Beach can manipulate his guitar to create some incredibly frightening noises. This EP is enough to appease the rabid fans and create just enough interest in a new listener to provoke them into seeking out more of their music. Oh, did I mention the only physical media it's available on is cassette? I guess they felt the deceased cassingle need some of the love vinyl is currently receiving.

(Twin Lakes Records, 328 Twin Lakes Road, North Branford, CT 06471)