CBGB Owners Plan Festival and Seek New Location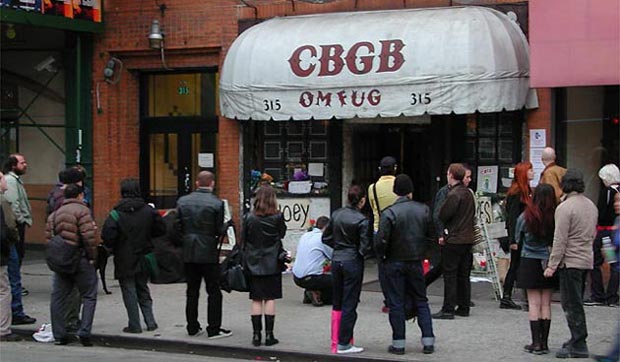 A group of investors has purchased the rights to CBGB and are seeking to host a festival this summer in the former club's name, as well as to open a "new" CBGB in downtown Manhattan.
According to the NYT, the new owners of the club's assets say they hope that the festival will revive the wide-open artistic aesthetic associated with CBGB, which is where acts such as the Ramones, Blondie, Sonic Youth, and Patti Smith got their start.
The 2012 CBGB Festival is scheduled to begin on July 5th and will feature approximately 300 rock bands performing at around 30 venues of varying sizes, including Central Park Summerstage, Webster Hall, Trash Bar, and the Living Room.
The Cro-Mags, Vision of Disorder, and Sick of It All will headline a hardcore show at Webster Hall, and the festival will also stage a free concert in Central Park with Guided by Voices, the Pains of Being Pure at Heart, and Cloud Nothings.
An investor group led by Tim Hayes have reported that he and his partners intend to reopen the club in Lower Manhattan and are searching for a building to purchase: "We don't want to be a tenant. We don't want to be a victim of what happened before," says Hayes, referring to the shuttering of the original CBGB in 2006 when owner Hilly Kristal (who died in 2007) was forced from his building by owners seeking a higher-paying tenant.
For more information on the festival, visit CBGB.com.