OCCUPANTS by Henry Rollins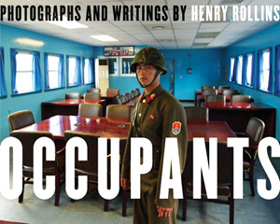 Chicago Review Press, 164 pages, hardcover, $35.00
In 1981, Henry Rollins personified angry punk with the release of Black Flag's Damaged. Now, more than 30 years later, he's still angry, but it's a much different form of rage. Even without a band or a stage, Rollins has traveled the world; in his travels he has visited some of the poorest Third World countries.
Rollins chronicles his travels via photos and words in Occupants. His photographs capture the desolation of poverty and disease affecting most of the world — children digging through trash heaps, men sorting used syringes. He juxtaposes the extreme poverty with images of flashy cars and palatial hotel rooms in Saudi Arabia.
His photographs are a devastating slug in the gut, and his words are a punch in the face. "Overdraw, foreclose, die. All your faith is bullshit," reads a fiery passage tied in to the HIV epidemic in South Africa. "You're so fucking stupid. Your skin is being eaten by sunlight as your arteries grow hard. Your children are even more brain-dead than you are," reads another. "I hope it burns to the ground," is the simple caption beneath the photo of a Thai woman cleaning a statue of Ronald McDonald.
Rollins is a rare world traveler who seeks not to find himself, nor relaxation, but to shed light on the world's injustices. He's outraged, and Occupants is a jarring look at a side of the world we don't often see.