JOSHUA BENASH – The Dismal; The Beautiful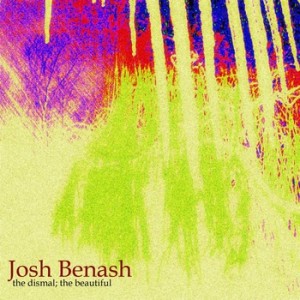 Joshua Benash led Upstate New York's Kiss Kiss for eight years (touring with bands like Thursday, Murder By Death, and The Dear Hunter) before they split in 2010. Now, Benash has released The Dismal; The Beautiful, a collection of, as he puts it, "odd and haunting songs." He's right — these are strange, late-night thoughts wrapped in lush synth delivery and occasional soft guitar.
"Sick of the Wreck" begins with a dizzy dance of drums and keys before it blooms into a sparkling synth opus. Still, the whole thing sounds like it's underwater. That's the tone of Benash's new assortment of songs: murky and distant.
Well, that's only half-true.
The Dismal; The Beautiful has its haunting songs dressed in cobwebs and painful vocals. But it also has its odd songs decked in neon jumpsuits. The glitchy 8-bit (or chiptune, whichever you prefer) "My Little Noose" sounds like a twisted colorful carnival on speed, complete with demented lyrics like, "I know my blood tastes good tonight." At least they're better than those on "The Pancake Song," a two-minute migraine-inducing throwaway about, well, pancakes.
Some songs are just boring, wallowing in their own minimalism before they slowly drift off to die ("The Bodies of Trees"). Some lay it on too thick ("She is Bad"). But some get it just right, the tricky balance between self-deprecating simplicity and swelling payoff. "A Million Spines" recalls Weezer's Pinkerton days, which refreshes after the guessing game of styles on the rest of the album. It's clean-cut but still unresolved; poppy but not peppy. It's a standout track in a gathering of seemingly unfinished and unpolished tunes.
If Benash spends some time revamping this variegated hodgepodge, it might live up to its name. It's not fully dismal, but it's certainly not beautiful — just yet.
(Motor Oat Records, no address provided)