Interview: Ancient VVisdom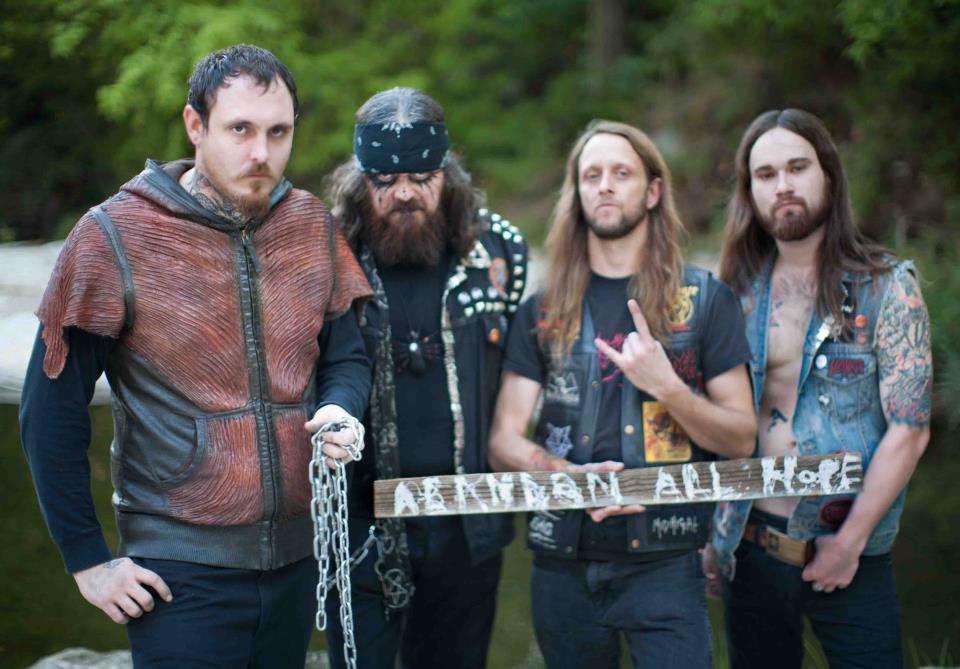 It has been a busy few months for the folk-metal band Ancient VVisdom. After releasing their debut record A Godlike Inferno last year on Shinebox, the band has kept busy, opening for Ghost back in January, playing Roadburn, and even signing to a new label, Prosthetic Records.
The band, which features the core of Nathan Opposition on vocals and live drums, his brother Michael Jochum on electric guitar, and Justin "Ribs" Mason on acoustic guitar, is just about to celebrate the re-release of their debut on Prosthetic. We decided it was a perfect time to send lead man Opposition some questions to get low down on where the band has been and where they are heading.
How did the band arrive at its sound? I say this because, the way the band sounds is a complete turnaround, from some of the former bands (such as Integrity and Iron Age) you guys have been in. How did the band come together?
We wanted to start a rock 'n roll band that had influences from all over the spectrum of music that we listen to. I like anything from Alice in Chains, to Danzig, to Death in June, to blues and folk rock, to metal, and recently been getting into a guiltless pleasure, the Grateful Dead — which I'd never thought I'd say, ever. I like bands like that, [and] bands like Animals As Leaders and Watain. So I'm all over the board.
What comes out in Ancient VVisdom is unique because of the people involved. We all listen to different things and will argue bands all the time, but then there are bands that we all know every word to their songs. It's great — sometimes our differences unite us.
How does Satanic and occult philosophy fit into the lyrics of the band, as well as its overall outlook?
It is timeless for me to create my own philosophies of what I've read and what I know from life and my experience. I like to think of what I do as a page in my time. Here is where I am and what I know. There is where you are and what you know. Both paths equally and ultimately take us to the same destination. What is in between our time here and there is what make us who we are. Our experiences make us who we are, where titles for things not only do not matter, but they do not exist.
You were recently on the road with Ghost opening for them on their first headlining trek in the United States. How did it go? How were you received?
Our tour with Ghost was excellent — 13 dates of doom. Three great bands, Ghost, Blood Ceremony, Ancient VVisdom. [An] excellent crew; everyone had a great time and every show was amazing. Hetfield was at the show in San Francisco, that was fuckin' rad! All in all, evil and amazing.
Do you think there's been an upswing in the popularity of occult-themed metal bands over the past few years? There seems to be a lot of good ones coming out of the woodwork. What do you think of all this?
I enjoy it. More bands to take over with! Plus, I have always been interested in things of the occult, even since childhood. So it's interesting to see bands writing about stuff like that.
How did you end up incorporating a machete into your drum set-up?
Ribs had a machete in the back of his truck. We were at the studio experimenting with different percussive sounds, and that seemed to really complement the beat we had come up with for "Alter Reality," the first song off A Godlike Inferno. It was a joined effort, but if I remember correctly, Wade Allison played it on the record.
What are the future plans for the band? More touring? A follow-up to your excellent debut?
Thank you! Yes, we have big plans. Just signed to Prosthetic Records, and we have tons of new material waiting to be recorded. We played SXSW with Ringworm, All Pigs Must Die, Primitive Weapons, then did three shows in Texas with Venomous Maximus and Watching the Moon. After that touring in April, we played the Norway Inferno Metal Fest in Oslo. Next up is Denmark, Germany, then Holland, and we are playing Roadburn. After Roadburn we are playing a week of shows in the UK, including London at the Old Blue Last — a friend of mine, Andy from Vice Magazine, runs it. Also working on a full US tour this summer!
How do videos fit into the overall aesthetic of the band? I say this because both "World Of Flesh" and "The Opposition" maintain the dark vibe portrayed in the music. They are both dark and cool in their own ways.
Videos are the visual message that we disturb our listeners and non-listeners/haters with. They are the projections of the spirit of Ancient VVisdom.
What is the meaning behind the band's name? And why the "double Vs" for the Wisdom part of the name?
if you take a look at our logo it is actually ancient Greek text, which complements the nature of the symbol and name. Symbols and names have a close connection, and that is why there is power in a symbols and names.