YES YES – Dogstar! Heal Your Weightlessness!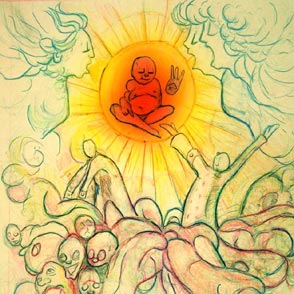 When I first listened to the latest output by Yes Yes, the product of musician Michael Ersing, I thought to myself, What the hell was that? Then I listened to it again and again and again — on that fourth listen, I think I got it (or my brain melted). Ersing is definitely a believer in the "less is more" way of doing things, because Dogstar! Heal Your Weightlessness! is exactly that.
Armed with an acoustic guitar and a ton of backup singers, the album consist of eight tracks of folk tunes, gospel choirs, campfire sing-alongs, poems, and whatever anyone in the room wanted to say — they just hit record and let it fly. Most of the tracks on the album are poems added to music, singing/talking about life, the world and the universe among other things.
Ersing walks a fine line between folk singer and ranting crazy guy. "Beautiful & True" and "True Love Without Sean" are fine examples of his singing abilities. Both incorporate nice acoustic guitar, melodic vocals, and some perfectly placed backing vocals, creating tunes that sound similar to Conor Oberst. Offering the best of both worlds are "Eye&Moksha Hikikomori" and "Ocean! Ocean!" — shining examples of his poetry and music melded into one song. Beginning with a frantic paced rants, they both evolve into love-filled group sing-alongs.
Something altogether different is "Girl, You Got To Eat That Cookie, Now," which sounds more like a room full of drunkards having fun with a tape recorder than anything else. I will say it is entertaining.  "A Poem, Sean Cabral" is just that: one of Ersing's poems, complete with chirping birds in the background. Rounding out the album are two tracks that evoke choirs: "Dogstar! Heal Your Weightlessness!" and "Shaking Wind," perfect tracks to round out a record that has a little bit of everything. The album is not for the faint of heart; however, if you enjoy something a little different, this should be right up your alley.
(self-released, no address provided)