TAKE THIS WALTZ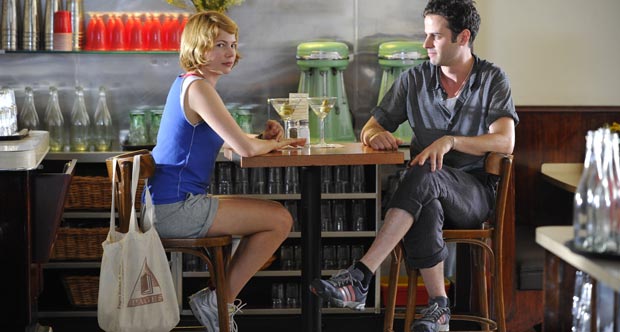 116 min., dir. by Sarah Polley, with Michelle Williams, Seth Rogen, and Sarah Silverman
Delivering her second feature as a director, Sarah Polley decided to explore the opposite end of the spectrum from her debut film, Away From Her. The sweltering heat of a sticky Toronto summer sets the table for an interesting spin on the tale of young love and its misgivings. Hard to fully grasp immediately, Take This Waltz's cavalcade of questionable circumstances forms its true core.
At the end of her "business" trip to Montreal, Margot (Michelle Williams) has a brief run-in with a young man named Daniel (Luke Kirby), who does not make a good impression. On her plane ride home, this same man happens to be seated next to her, so they strike up a conversation that goes over better than their first exchange. They even decide to split a cab from the airport. When it comes to light that Daniel also happens to live across the street from Margot, she has to put her foot down and stop the flirting, as she's happily married. Or is she? She loves her husband, Lou (Seth Rogen), and he loves her, but she's obviously enthralled with Daniel. She fights it at times and embraces it at others. Married at a young age, Margot and Lou are at the phase of their marriage where everything is routine. While no love is lost, this — along with her tendencies to harp on irrational fears — keeps Margot in a see-saw battle with her own feelings, and it becomes hard to deal with.
The weaknesses of Take This Waltz are also its strengths. People will come out of the film all thinking and feeling differently. At times, it seems as though the film pushes the audience to understand and accept that no matter what path you choose, you will end up in the same place (a redundant, yet happy marriage). At other times it feels it's saying that you shouldn't force yourself to stick with what you know. Both interpretations are all perfectly understandable and proper. However, thematically, the film boils down to one thing: taking the chances. The chance may be staying true to your husband, or it may be leaving him — but it's one or the other.
The film spends a lot of time hammering the audience over the head with the key issues. Viewers may be distracted by the unexpected appearance of Michelle Williams and Sarah Silverman, completely naked as they share a community shower with a group of older, overweight women, to notice that the entire point of the movie is thrown in your face right there. In discussing their day-to-day lives, Silverman expresses her interest in doing something new when an older woman on the other side of the shower leans in and says, "Everything new becomes old again."
Take This Waltz was partly inspired by the Leonard Cohen song of the same name (which itself is Cohen's tribute to the poem "Pequeño Vals Vienés" by Federico García Lorca). The song does appear in the movie, thankfully, as everyone should experience it. Lyrically, it will give you no new insight to what the movie is trying to say, as it all boils down to the title. Yes, the inherent beauty of the song's imagery and Cohen's deep croon evoke a romantic livelihood that matches Margot's passions, but as she makes her choices, you may choose differently.