Sex and the Shitty: "Lady of Burlesque" and "Showgirls"

The concept of the American Dream weighs heavily in both Showgirls (1995) and Lady of Burlesque (1943), as Deborah Hoople (Barbara Stanwyck) and Nomi Malone (Elizabeth Berkley) both fight to earn legitimacy as entertainers, as well as to rise above their unflattering beginnings. Ironically, this pretty much sums up Elizabeth Berkley's career.
When viewed in succession, the films display the extreme progression of cinema, from the subtle sexuality of Stanwyck, to the close-up shots of Berkley's naughty bits — Lady of Burlesque is a pre-code movie that twists and teases with language that hints at sexuality, while Showgirls is an explosion of boobs and butts. Lots and lots of boobs and butts:
I see the redhead gay, but where are the Jew and the Italian from Avenue A? Compared to Deborah Hoople's intense intellectual sexuality, Nomi seems kind of empty.  Nude throughout the movie, her body becomes uninteresting to the audience.  There is no build up or intrigue — you're left with her immature personality, her awkward gait, and Elizabeth Berkley's destruction of the term "acting."
Is this what you want in your sexual partner? Freaking Kibbles and Bits?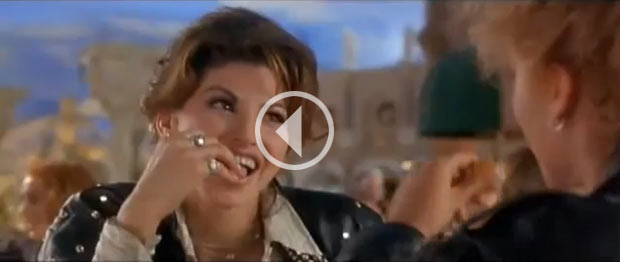 Click here to check out the video
Verhoeven allows Berkley to totally destroy this role.  Perhaps if it was a strong actor like Barbara Stanwyk, we would feel more sexually excited to see her flailing around naked. When she is with her friends and having fun, Nomi seems like a simple cowgirl who sustained a severe head injury at the rodeo. By the time the movie gets to the graphic and uncomfortable rape scene, the fantasy is crushed. This is where we see the ugly and unseemly side of the sexualizing of women.
Lady of Burlesque, on the other hand, shows an appreciation for this less scandalous profession of singing, dancing, and showing some leg. Stanwyck is portrayed as clever and independent.  In this scene, she dances and minces words about sexuality:
Throughout the whole movie, characters talk of moving out of burlesque. They want to use burlesque as a starting point; similarly, Nomi tries to maneuver from stripper to showgirl. In the end, after Barbara solves the "G-String murders" (don't ask — Agatha Christy, this movie is not), she decides to remain with her family and friends doing what she enjoys: dancing burlesque.
Nomi, on the other hand, sees for the first time how everyone around her is just using her. The movie constantly asks, "Is it dancing, or fucking?" Nomi decides it's the latter and bolts back to whatever trailer park she crawled out of. The dreams of working your way up in the profession are dead.  Either you stay in burlesque and accept your job, or you bolt back to your humble "Saved by the Bell" beginnings.