"Dumb and Dumber 2″ Sequel Film Forthcoming, Jim Carrey and Jeff Daniels Are On Board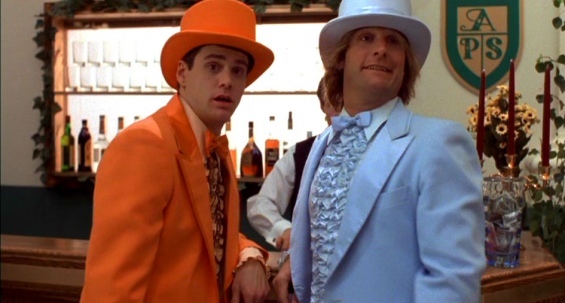 The Farrelly Brothers have provided an update on a rumored comedy project of theirs, Dumb and Dumber 2, a proper sequel to their 1994 breakout hit starring Jim Carrey and Jeff Daniels.
Word got out last fall that a second Dumb and Dumber flick was being developed, with Carrey and Daniels both poised to reprise their iconic comical roles. Peter Farrelly has revealed that production on Dumb and Dumber 2 is set to begin by September 2012, based on a script draft by Sean Anders and John Morris (She's Out of My League, Hot Tub Time Machine). Carrey and Daniels are in line to return for the sequel, according to the Farrelly.
Peter Farrelly also addressed the prequel Dumb and Dumberer: When Harry Met Lloyd:
"We did not do Dumb and Dumberer. That was a studio thing. So we've always wanted to do a sequel and finally Jim [Carrey] called up. Jeff [Daniels] always wanted to do it. We always wanted to do it. Jim was busy, but he called and said, 'We've got to do this thing again.' He had just watched Dumb and Dumber and he said, 'This is the perfect sequel. Let's do it.'"
(via Screen Rant)
Other Stories