Show Review: John K. Samson at Mohawk Place, Buffalo 3/17/12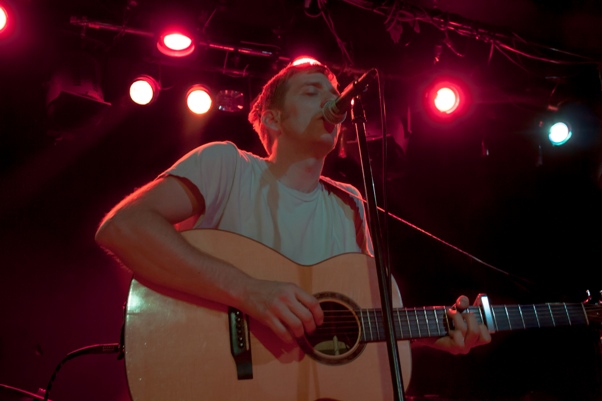 John K. Samson stopped in Buffalo on March 17th during his trek across Canada and the US. But instead of Irish jigs and green beer, the St. Patrick's Day show focused more on cold winters and hockey — a deep bond between the Buffalo crowd and Samson's all-Canadian band.
Sackville, New Brunswick's Shotgun Jimmie opened the show. Seated on a stool, Jimmie was a one-man band. He played Pavement riffs with his hands and an improvised drum set with his feet — a pedal under his left foot hit a homemade snare, and one under his right foot played a suitcase bass drum. He ambled through his set of short, catchy songs, warming up the growing crowd with his music and humor. After his set, he packed up his drum kit, but kept his place on stage right as part of the Samson's Provincial Band.
Samson opened with a solo performance of "One Great City!," effortlessly finger-picking his acoustic guitar, the now-packed room echoing every word. After the band joined him on stage, they played a block of songs from his solo album, Provincial, including "Cruise Night" and "Letter in Icelandic from the Ninette San."
Half of the set was composed of Provincial songs — everything from the lonely "The Last And" to the upbeat "When I Write My Master's Thesis." The other half of the set was devoted to The Weakerthans' catalog. They played two unusual songs, both about hockey, "www.ipetition.com/petition/rivertonrifle/" — a literal petition to induct former NHL player Reggie Leach into the Hockey Hall of Fame — and "Elegy for Gump Worsley," a poem about the late goalie, during which everyone raised a glass in his honor. But most of the songs were fan favorites such as "Tournament of Hearts," "Night Windows," and "Pampleteer." They also played a ferocious cover of Jawbreaker's "The Boat Dreams from the Hill."
They closed the regular set with "Left & Leaving," before returning for a sizable encore. Samson again started the set alone with a solo rendition of "Plea from a Cat Named Virtute." When the band came back, they launched into Propagandhi's "Gifts," with Samson slinging a bass. "Gifts" bled into another Weakerthans tune, "Anchorless." After "Reconstruction Site," Samson took a request from the audience and did a solo version of "Aside," before the band finished with one more Provincial song, "Stop Error."
Even without The Weakerthans, John K. Samson is still a powerhouse. He's both the calm songwriter and energetic bandleader, and the Provinical Band is more than capable of bringing his songs to life.