Listen: Horseback Premiere's New Song "Ahriman," Reveals Details About New Album "Half Blood"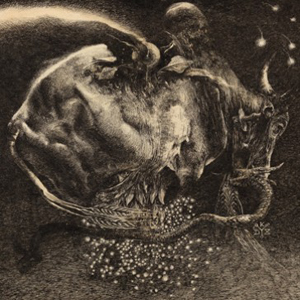 Chapel Hill's Horseback has premiered a brand new song entitled "Ahriman" from their forthcoming full-length, Half Blood, their follow-up to 2010′s The Invisible Mountain. The song can be streamed below following the track listing.
The album was recorded by Horseback mastermind Jenks Miller at The Chateau and is a synthesis of the eclectic sounds the band has explored in the past.  Set for a May 8th release on Relapse Records, the material on Half Blood is an amalgamation of drone, doom, black-metal, psychedelia, post-rock, noise, and ambience recorded with a wide array of instruments. The album's artwork was created by Russian surrealist painter Denis Forkas Kostromitin.
Half Blood Track Listing:
1. Mithras
2. Ahriman
3. Inheritance (The Changeling)
4. Arjuna
5. Hallucigenia I:  Hermetic Gifts
6. Hallucigenia II:  Spiritual Junk
7. Hallucigenia III: The Emerald Tablet
Other Stories