SXSW 2012: La Sera, Mr. Gnome, Pictureplane, Tycho, and More 3/14/12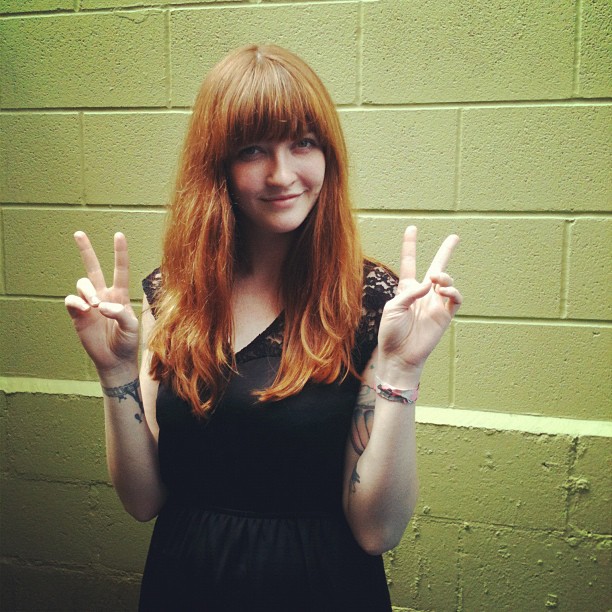 I started the day early with the Terrorbird Media/Force Field PR showcase at Red 7. Mr. Gnome kicked off the day by shredding through their first song, then slowed it down with a guitar-driven, spooky-sounding build up that climaxed in a thumping garage rock headbanging drone. Mr. Gnome didn't waste a single minute of their set, displaying to the audience both facets of their musical split personality: hard, fast garage rock, and soul-driven vocal melodies.
After that I headed to the patio stage to catch the end of the White Arrows' set. Their harmonies instantly caught my attention. Performing surf-rock inspired tunes with a nasty dance-driven backbone and some psychedelic breakdown backlashes, their poppy guitar riffs and bubbly synths were perfect for the outdoor venue as the sun started to break through the clouds.
Tycho was next up at the indoor stage, slowing things down with progressive, spacey jams. The airy keyboards, bass, and guitars were soothing and perfect for the darkness of the interior of Red 7, but might have been a better fit if playing a sunny field billowing with pot smoke, rather than a crowd of people drinking PBR with promotional PBR beer cosies in the dark. Regardless, the swaying crowd clearly enjoyed the show.
Outside, Forest Fire were feeding off the outdoor energy to pump up their beach-side surf jams. They kept a pretty slow tempo for most of the show. Playing tunes seemingly influenced by  '50s love songs, the crooning, growling, and howling of lead vocalist Mark Thresher was complemented on their final song with the vocals of keyboardist Natalie Stormann. It left me wondering what they could do if they combined the voices of singers more frequently. The band ended the set by diving headlong into a full-blown jam that was far heavier than anything else performed during the set.
La Sera went on next and played to a full crowd out on the patio. Starting with some newer songs, Kickball Katy and company went through a range of material, including "Break My Heart" and slower jams such as "Over Now." Despite Katy's announcement, "I think the bass amp is on fire! I smell smoke," the technical difficulties were quickly resolved and she finished with the single "Devil's Hearts Grow Gold."
The showcase at the Chevy Sound Garage had a few great electronic acts all in one night, like a Grand Slam of quirky dance music — and Javelin's set was my next destination. The duo put on an energetic show, mixing a strange blend of Carribean-sounding samples, pop melodies, and improvised, impromptu remix mashups, such as when they suddenly began performing Beastie Boys' "Sabotage" before jumping seamlessly back into their own song. They thoroughly won over the crowd during their last song by playing a kazoo into the mic and doing another mashup/cover/remix monster hybrid of Lil' Wayne's "A Milli.
Perhaps the best aspect of Javelin's performance was the obvious sheer excitement and joy they had to play — their dedication to making the show as enjoyable as possible for the audience was clear, and they were proud to perform.
Next up was Pictureplane, a one-man electronic glitch artist I'd had on my must-see list. With a table full of gear, he opened up by mixing his voice to sound like a distorted choir of angels, layered over a growing soundscape of tweaked, high-pitched vocal snaps and samples. He pranced around stage like Macaulay Culkin channeling Michael Alig, and went to give a sarcastic shout-out to various corporate sponsors of the event. Prancing through the crowd and shaking hands with the fans throughout the set gave the show an extremely personal feel, which is hard for electronic artists to accomplish. He wasted no time blending songs such as "Black Nails" and "Body Mods" right into one another in glitch-tastic fashion, and closed with the psychedelic, sexually-charged tracks "Trancegender" and "Post Physical."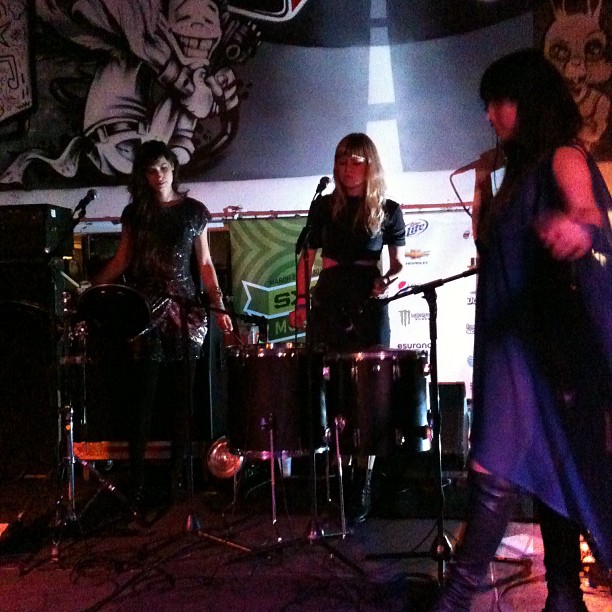 Next up were Feathers, five mysterious girls dressed like the wicked witches of glitter performing beneath the incessant flashes of strobe lights. Their songs were dark and down-tempo, a stylistic mix of sounds that ranged from goth to techno. Unfortunately, technical difficulties ended the set early.
After a much-needed dinner break, I checked out a DJ set by Neon Indian. The set sounded like nothing more than a Neon Indian album, with a constant beat that never changed, and zero narrative. He was cut off unexpectedly while totally in the zone, unaware he was going over his time limit. The performance was satisfying enough, but I was expecting a little more.
Last band of the day: Unknown Mortal Orchestra, who play glam-rock garage psych wormhole blues; dirty jams you could sing along to, with guitar solos and freak-outs up and down the fretboard that broke rules of song and sound, yet never fell too far from the bass and drum groove. The bass was so heavy my backpack was thumping, and the swirling electric guitar wizardry fell in the confines of drone rock, with epileptic seizure mini-solos and riffs. Sometimes unintentional feedback squealed through the sound system, but UMO played through it better than any other band who encountered tech difficulties. The set was a bit short, but the band knew to keep us salivating for more.
End of day two successful.