Interview: Home Body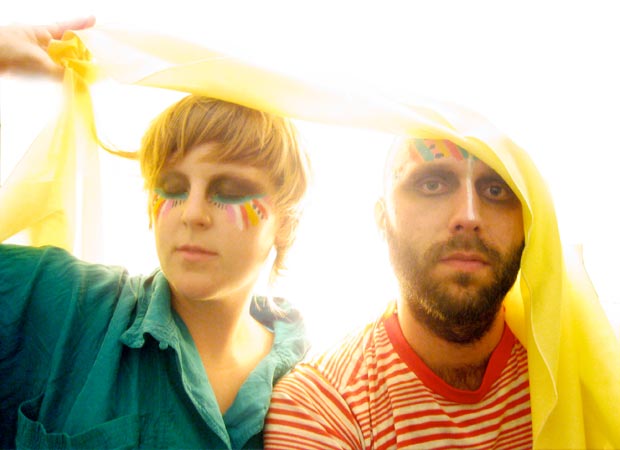 When Eric and Haley started making music as Home Body, it was all about making connections. They wanted to form a unique creative bond with their audience. So they merged their interests in music, art, dance, lighting, and costumes in the hopes of creating a truly immersive performance. And as a result, it is safe to say that Home Body's brand of moody electro-pop is best experienced in person.
Still, even without the strobe effects, there is something to Home Body's music that deserves attention. There's an emotional shorthand on display in the lyrics and melodies, and an insular quality that mirrors their close relationship. And yet, Home Body is not a vanity project. Ultimately, Eric and Haley crave a community and are using their art to build one from the bottom up.
In a way, it makes perfect sense. If making connections is their ultimate goal, it's fitting that Home Body proved to be the most popular entry and winner of the 2011 Verbicide Unsigned contest Readers' Choice award.
Based solely on your press photos, I assume you met at a feather boa/face-painting convention. At what point did you decide to start making music together?
We had been sweethearts for five years before we started making music together as Home Body. Eric made lots of music before Home Body, and Haley made lots of art. Now we use Home Body as an outlet to do those things together, with each other as collaborators.
Try your hardest to describe a Home Body show using metaphors that have nothing to do with music.
You're hiding in a manhole, ready to pop out and declare your love for the person of your dreams, as a colorful parade suddenly marches dances above your head, tossing all sorts of glittery goodies from their floats. You catch a palmful of magic as it falls through the streets, taste it on impulse, and are rewarded by a mouth feel of sweet sunshine. You feel a part of the splendor. You feel brave.
Or
You're sitting on top of a mountain with your best friends in the whole wide world, watching the neon sunset, and to your left a lightning storm approaches. Flash! To your right, a bright comet passes. Whoa! The sun finally sinks below the hot pink horizon. You and your friends high-five, then light off fireworks. You dance with the pops and booms under the sky's strobe lights.
Oftentimes a show is equal parts music and performance. Home Body looks to cross over into performance art. How much effort do you put into creating the right vibe for a concert, and how do you bring people into that creative space?
We like to make people feel special, like they are in the right place at the right time. Part of creating an experience like that for others includes being thoughtful about the physical space we are in, as well as the social space that we are sharing. We consider our lighting, costumes, and choreography just as important in our live performances as our sythesizers and pedals. We love how music can bring awareness to particular feelings, emotions, and movement, but we also love how spectacle can activate the imagination and ignite reaction.
How do you usually split duties on creating a song?
First, we fill up big glasses of water. Then we climb the stairs into our attic studio and close the door. Sometimes, but not always, we begin with an idea for the kind of sound, movement, or imagery we want to explore. Eric will fool around with different beats or sounds, and as Haley hears something she likes, she'll start dancing. We'll groove for a while, experimenting and dancing, and then Haley will improvise on the mic. We'll catch snippets of melodies we like on a hand held cassette recorder, and then once our glasses are empty again we'll go downstairs and review the collage of sounds, picking out what we like and what we want to keep working with. Next, Eric will polish the beats, Haley will write some lyrics, and we'll keep playing around and setting the song.
You are both multi-talented artists outside of music.  Do you have a creative "first love" or do you simply follow your muse?
It seems that most of the other art forms we create end up bleeding into our music in some way. Prints turn into shirts, album art, or flyers. Sculptures become part of our costumes. Ideas and thoughts we have about community and the world turn into lyrics, or become part of our stage persona. We feel lucky to be surrounded by a lot of interesting and creative people, who help to feed our fire and keep us inspired.
Most of all through Home Body, we are looking to create connections… connections to other people, places, movements, ideas, and so on. We've found music to be the ultimate way to connect with others, because it's full of exchange, vibration, feeling, and expression. Not only is music very accessible, but it's nearly impossible to avoid. It can be found everywhere.
Do you think it's easier to collaborate because there are only two of you? Would you be open to adding other members to Home Body?
We share so much already together. In some ways, Home Body is an extension of our relationship, and is a manifestation of our shared dreams, hopes, desires, and experiences. We think part of what makes Home Body so special is that we are both so entangled in it and in each other. But we love collaborating, and would never rule out the possibility of incorporating other people or ideas into Home Body. Doing so would only limit the potential of the project.
You won the Readers' Choice award for Verbicide Unsigned, which means means a lot of people out there really like electronic music. How did you get the word out?
It's interesting because so many aspects of today's society and culture rely on technology and electronics. It's almost easy to get lost in the virtual and synthetic. Maybe people respond to our music because even though it's made with synthesizers and drum machines, it feels more humanized. After all, we do not think to ourselves, Let's make some electronic music. We think, Let's make some music.
What's your take on this whole dubstep thing?
What exactly is dubstep anyway? Is it Bert and Ernie hanging out in a tub, or is it a form of aerobic exercise? Both those things are pretty cool, so we are down.
Verbicide Unsigned is a contest that was created in support of independent artists. How do you embody the spirit of independent music?
We go to shows, put on shows, make art, and follow our dreams.
Do you have any plans for touring outside of the New England area?  What's next for Home Body?
Right now we're working on some sweet music videos. We plan on recording a full-length album this spring, and touring all over the country this summer and fall.