THE SPEED CHRONICLES ed. by Joseph Mattson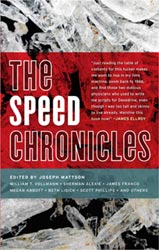 Akashic Books, 300 pages, trade paperback, $15.95
It's scary how transformative drugs can be. Don't believe me? Sit down and read at least one story from The Speed Chronicles. You will see how an innocent human being can transform into a vicious monster, fiending for its next high.
Brought to you by Akashic Books, the same people that gave us the Noir series, comes the Drug Chronicles. In this edition covering speed, 14 writers take us into a world of madness, machination, methodology, and "medicine." I was hooked at the very beginning with Joseph Mattson's introduction where he describes methamphetamine addiction as a poetic self-destruction. Continuing on, you have great stories like "War Cry" by Sherman Alexie, a tale of a meth addicted Indian living on a reservation. Also by Joseph Mattson, "Amp is the First Word in Amphetamine" is a sadistic account of what happens when drugs and religion get mixed.
Perhaps the most notable piece in this book is James Franco's "Addiction."  Yes, that's right. The Academy-Award nominated actor took segments of the Twilight script and renamed it "Chrystal Meth," thus transforming vampires into tweakers. My personal favorite, however, is Jess Walter's "Wheelbarrow Kings," a hilarious story about two broke and hungry tweakers transporting an old television to a pawn shop.
Although this book is filled with great hits, it has a few misses as well — especially "Tips n' Things by Elayne" by Beth Lisick, which has no mention of drugs whatsoever, even if you read in between the lines. I have no idea how this got sneaked into the book.
Overall, an engrossing read, as I suspect all books in the series will be. So far, I've read the Cocaine and The Speed Chronicles, and I would love to expand my collection with the upcoming Marijuana, Heroin, and Coffee Chronicles.