Show Review: Akron/Family at 285 Kent, Brooklyn 1/21/12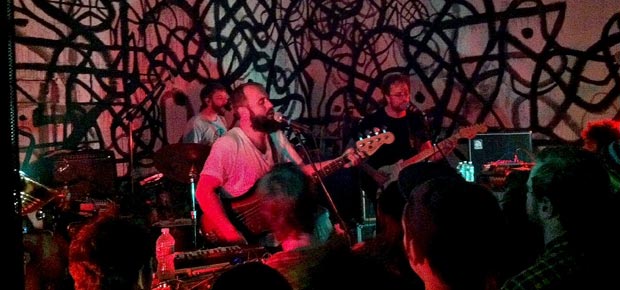 Little known and inconspicuous, Brooklyn venue 285 Kent is a tiny warehouse riddled with graffiti. It is a dark, hot, and, yes, dirty space where the beer and mixed drinks appear to be store-bought. Oddly enough, all of these things make it one of the Williamsburg neighborhood's most interesting and enjoyable venues — assuming you love being tightly sandwiched between bespectacled, skinny jeans-wearing music junkies…and I assume you do.
On Saturday, January 21st, the warehouse became home to the polyrhythmic, noise jam experts, Akron/Family, who took to the stage after openers Dustin Wong and Bad Weather California, both of whom put on an impressive show.
They enticed the frothing and surging all ages crowd with bombardment of experimental textures and sounds before moving into the opening song, "Gravely Mountains of the Moon." With no end, but rather a heavily reverberating progression they rolled into one of their more well known tracks, "River," which pleased fans immensely, who screamed along with them. "River" came to its signature climax and erupted with an onslaught of energy from both artists and fans, who jumped in time with Dana Janessen's percussionary pyrotechnics.
One of the most incredible — if not most heart-warming — moments of their insane performance was the elaborate and sprawling version of "Island." The track is from their new album, S/T II: The Cosmic Birth of and Journey of Shinju TNT, and it took the audience to another place. Seaton and Olinsky prepped the audience for the mesmerizing journey with witty and sassy dance instructions. Putting their "asses out," as Seaton said, and with no shame at all, they encouraged fans to throw one finger up in the air. With hands held high, the completely mesmerized group of concertgoers swayed gently from side to side. From there, the harmony grew and the bass swelled into a pulsating and beautifully explosive anthem to an island somewhere far away. The crowd fell silent for the first time all night, entranced in the slow progression and climax of the song. It was an unexpected but happily welcomed change from the combustible web of noise that preceded it.
That moment of powerful emotion was quickly countered by the band's need for noise, and as the night progressed, so did the chaos. Between jumping and moshing fans came improvisational chord progressions, kaleidoscopic sounds, and the erratic burst of song. After endless prompting from their frenzied listeners, the band finally caved and produced a hypnotizing rendition of "Say What You Want To."
In signature Akron/Family style, the trio moved between moments of quiet introspection to elongated and distracted waves of distorted sound. As things began to come to a close, Bad Weather California members slowly began to join in the party, making their way both onstage and into the pit of hyped-up fans. As sweat dripped from beards and articles of clothing were ripped apart, Seaton and Olinsky ran their microphones through mixers creating an ambient thunderstorm of sound. They franticly scratched guitar notes and manipulated every chord with pedals and noisemakers into echoing waves.
They made their way off stage and in typical concert fashion, the crowd refused to leave. They sang a random assortment of lyrics from various songs and cheered with hopeful excitement for just a little bit more. Never ones to leave fans unhappy, the group made their way back onstage for an encore — and as fans sang the refrain to "There's So Man Colors," it was clear that these Colorado natives have a second home in Brooklyn. They ended with "Light Emerges" and a deep admiration for the crowd that had provided the shot of adrenaline for the show.