EARLY & OFTEN – Present No Fiction, Fear No Tense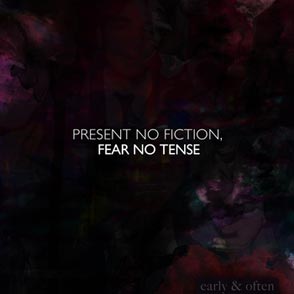 Sacramento's Early & Often can be summed up as a marriage of jagged industrial hiss and spacious guitar-driven post-rock. But don't let the simplification underwhelm you — these four young musicians know how to make sounds come together. That's exactly what they do on their debut release, Present No Fiction, Fear No Tense.
Initiating with a man's frantic, indecipherable ramblings, opener "Under the Phase" settles in at about three-and-a-half minutes with frail guitar noise. By five, the quiet breeze of gentle vocals and soft piano has lulled you into mild refuge, which begins to unravel as the drums come in. At the eight-minute mark, the lid's blown off as a jarring fuzz bass thrusts the song into its climactic conclusion of wails and spacey guitar.
And that's just the first song.
"The Feast" and "False Victories" follow suit, the first a glockenspiel-led brood of tension and release and the second a blippy, emotional ballad. "False Victories" is driven by a persistent knocking beat, like an unrelenting woodpecker pecking at the window of a man playing a mournful piano tune. It's all the detailed nuances that make Early & Often so complete and emotional.
The quick cackles of guitar to create suspense. The fourth cymbal strike coming in just a little more crisply than the third. The steady and propulsive basslines. Early & Often seek to compose, craft and arrange their songs with delicacy and poise, making Present No Fiction, Fear No Tense a mandatory re-listen. After all, you don't want to miss out on any of the buried, subtle flavors they offer.
(Sell The Heart, no mailing address given)