Time Traveling With The Brady Bunch
In a recent stupor, I rewatched 1995′s The Brady Bunch Movie. I watched the whole thing and I couldn't stop. It was so bad. The idea to watch it came from my roommate in New York, who tweeted what is without question the movie's best quote:
She's harder to get into than a Pearl Jam concert!
This is said by a high school dork as he watches Marcia strut across the hallway in her short, pink, polyester skirt. If in 1995 you missed this blockbuster, here's the premise: the saccharine Brady Bunch (recast perfectly, with Christine Taylor as Marcia and Shelley Long as Carol) are removed from their 1970s suburban bubble and placed instead in the 1990s — '70s morals, fashion, and exuberance intact. It's funny to watch this movie and realize how the Brady family's naivete and relentless optimism is supposed to infuriate that early Clinton, still-grunge-and-fuck-you world that was the mid-1990s. But what's even funnier is how absurd the 1990s look watching them from out here in the new millennium. They look really mean.
For example: in the scene above, Cindy — hands down the weirdest Brady — goes over to her neighbors' house to askth for her familysth mail, only to be greeted by a rude Hollywood guy on his treadmill (treadmills! So '90s!) who is simultaneously drinking a Bloody Mary and shouting into a cell phone about money he is owed.
The (bad) joke is that Mr. Ditmeyer, a flashy up-to-date  turn-of-the-century guy, finds Cindy's lisp, blonde curls, and politeness abhorrent. And I mean, Cindy's pretty irksome, but watching it now, Ditmeyer's character is the one who makes me LOL. What's supposed to be funny about this scene has changed: in 2011, it's hard to relate to Ditmeyer and hard to relate to his outrage. What got me laughing isn't Cindy Brady's outrageous sweetness, but Ditmeyer's inability to stand it. Yes he's a parody, but people like this existed in 1995! That in itself is laugh-worthy.
Another stereotypical character that cracks me up: the '90s version of the teenage lesbian. Ubach's character Noreen seems to be the only lesbian at the Brady's high school, and, naturally, she has a crush on Marcia. Marcia is by nature oblivious to the her best friend's crush, and invites her over for a sleepover, during which they sleep in the same bed like pigs in a blanket. Noreen, who doesn't seem to have much faith in her unrequited love until now, reaches over and touches Marcia's leg under the blankets. "Oh, I'm sorry, I thought that was my leg." Noreen apologizes, looks bummed, and the scene ends.
Noreen is the only '90s female character who's in more than a scene or two, and she's stereotyped as frumpy, an outcast, shy — a girl without agency other than her personal preference for girls over boys. The joke is her frumpiness paired with Marcia's beauty, and Marcia being too clueless to ever realize that her best friend is 1) a lesbian, and 2) in love with her.
Marcia's oblivion is funny to a point, but so are Noreen's awkward and desperate attempts: why'd she just go down and touch her leg like that? Who does that? Today, when I think of stereotypical teenage lesbians, I think of Naomi and Emily from "Skins" who are both super cute and fairly ballsy and not at all like poor Noreen: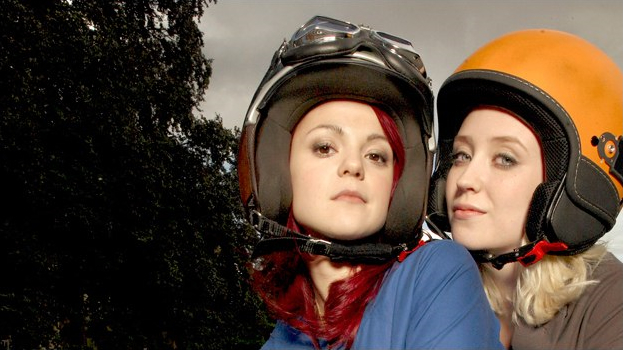 Anyway, my point is this: if you want to watch a movie in which one decade tries to make fun of another decade and just ends up mocking itself, The Brady Bunch Movie is a good place to start. It has everything you miss about the 1990s: mushroom haircuts, french kissing in convertibles, a "battle of the bands" talent show, and a brief and surprise appearance by an older but still awesome Florence Henderson.
—
Christina Drill is from Fair Lawn, New Jersey and currently writes and teaches in Panama City, Panama. She is Taylor Swift's biggest fan. Follow her on Twitter! (@stidrill.)