Guided By Voices to Release First New Album With "Classic" Lineup in 15 Years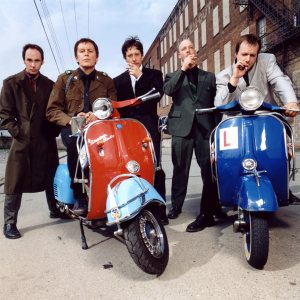 After a 15-year hiatus, the "classic" lineup of Guided By Voices (Robert Pollard, Tobin Sprout, Mitch Mitchell, Greg Demos, Kevin Fennell) finished off its year-long reunion tour by recording an album of 21 new songs. Entitled Let's Go Eat The Factory, the album is slated for a January 1st, 2012 release, and is considered to be a "return to form" for GBV — Pollard calls the album "semi-collegial" in approach, similar to iconic GBV albums like Bee Thousand and Alien Lanes.
Rather than recording in a studio, Let's Go Eat The Factory was instead created in the living rooms, basements, and garages of various longtime band members.
Some tracks were recorded live at Mitchell's garage, where the band would often practice back in the 1990s. These sessions comprised Mitch, Bob, and Jimmy Pollard, Bob's brother and longtime collaborator, who, though never a part of the touring ensemble, played a crucial role in the classic-era releases.
The album will be released on the band's own GBV Inc.