SAVES THE DAY – Daybreak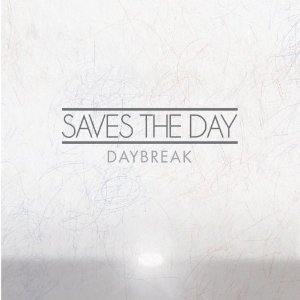 The opening track on Daybreak, the final installment of Chris Conley's emo/indie-trilogy (which includes Sound the Alarm and Under the Boards), is a 10-minute opus and homage and trip through memory lane to all the little guitar tricks and highly influential power-pop guitar sounds that Saves the Day created. The rest of the songs on the album are all of typical pop-song format. The best part about them is that even though we're all pretty sure what we can expect at this point, Conley didn't fail us.
Whereas so many bands simply flounder and produce blah-inspiring albums loaded with filler once they leave the basements and "get big," Saves the Day put forth a solid effort. Conley knows his way around his power-chords and how to make them sound new again, even if they're played similarly to almost any other Saves the Day song.
In the end, Saves the Day delivers on every single track, and though some fans might argue that they'd want to hear the classics at a show, the new songs might have more energy and be more exciting for Conley to play than their earlier counterparts.
For example, the main power-chord riff on "Deranged & Desperate" has just a little bit of bend/twang in the verses, and you can't help but get infatuated with it, especially considering it turns into an catchy sing along during the chorus. "Living Without Love" is probably the strongest song on the album for both the listener and Conley himself. In 2007, Conley announced the album trilogy and said Daybreak was going to be about acceptance — and isn't that what Saves The Day and the emo/indie rock stalwarts of the early 2000s are going for in 2011? This is the closing of a chapter for a generation that prided and branded itself on never wanting to let go of their scene, house shows , or heartbreak — or anything, for that matter. However, as Conley realized, once you do just realize your human limitations, you can truly unlock the possibilities to move forward with your art and yourself.
(Razor & Tie, PO Box 585, Cooper Station, New York, NY 10276)