Bob Dylan Blatantly Plagiarized (I Think)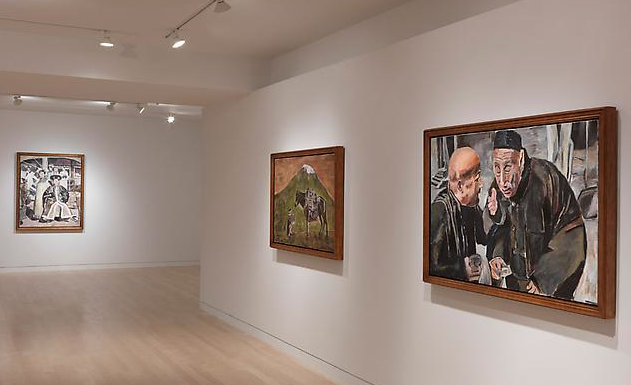 For some reason this story has kept me LOL-ing over the past couple of days. I fucking love Bob Dylan, always will, but he done fucked up here. What're you thinkin', buddy?
Bob Dylan's first-ever New York art exhibition opened early last week at the Gagosian Gallery on Madison Avenue. The exhibit is titled "The Asia Series," and consists of various paintings Dylan worked on during his trips to China, Japan, Vietnam, and South Korea in the late '90s.
The press release boasts that Dylan's pictures depict "firsthand depictions of people, street scenes, architecture, and landscape," along with "conversely [more] cryptic paintings, often of personalities and situations."
The problem is, though, that four of Dylan's paintings bear a — I don't even want to say "striking," I want to say "identical" — resemblance to a few artists' photographs, including a couple Henri Cartier-Bresson took that were published in Life magazine in 1948.
The painting in the foreground of the picture above, which Dylan titled "Trade," looks exactly like this untitled photograph by Cartier-Bresson. Similarly, a painting Dylan titled "Opium" is essentially a painting-from-photograph of a photo taken by Leon Busy titled "Woman Smoking Opium."
Michael Gray, a Dylan enthusiast and the creator of the blog "Bob Dylan Encyclopedia," addressed the issue in a blog post dated September 23rd:
"The most striking thing is that Dylan has not merely used a photograph to inspire a painting: he has taken the photographer's shot composition and copied it exactly. He hasn't painted the group from any kind of different angle, or changed what he puts along the top edge, or either side edge, or the bottom edge of the picture. He's replicated everything as closely as possible. That may be a (very self-enriching) game he's playing with his followers, but it's not a very imaginative approach to painting. It may not be plagiarism but it's surely copying rather a lot."
Go to Gray's website or this ArtsBeat article in the New York Times to decide for yourself whether or not Dylan plagiarized or simply "borrowed" inspiration from these photographers.
Good artists borrow, great artists steal, and blah blah blah, all that stuff. God bless Bob Dylan and his Bob Dylan-y soul, but… can he do this?  -Christina Drill