MATT POND PA – Spring Fools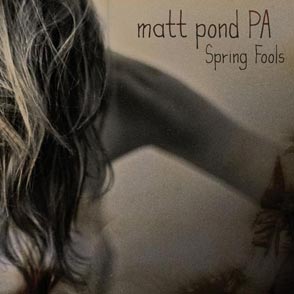 Matt Pond PA has always been a band willing to experiment with different tweaks in their sound, and their newest EP Spring Fools is no exception. Spring Fools puts a heavy folk spin on the usual Matt Pond PA sound that fans of the Emblems or even Last Light albums may not expect. Instead of the indie-rock influenced chord progressions, Spring Fools swings heavy into Wilco-inspired alt-folk, particularly in the brilliant "Sugar Bush." The best song on the EP is the marvelous "Human Beings," which takes on the newfound alt-folk aesthetic and blends it perfectly with the classic Matt Pond PA indie feel.
As a whole, Spring Fools is a change in sound from earlier Matt Pond PA work, but isn't a complete sea change that renders the sound unrecognizable. There's enough left so that longtime friends of Matt Pond PA will still love it, but the new vibe is enough to open up the sound to new fans. This is a solid EP.
(Altitude Records, 7 West 22 St. Fourth Floor, New York, NY 10010)