Bonnaroo 2011 Lineup Announced (by Conan)


The initial lineup for the 2011 Bonnaroo Music and Arts Festival has been announced. The 10th annual four-day camping and music festival will be held June 9th through the 12th on the 700-acre farm in Manchester, Tennessee, 60 miles south of Nashville. The festival will include Arcade Fire, Lil Wayne, the Strokes, My Morning Jacket, Deerhunter, Big Boi, the Decemberists, Iron & Wine, Eminem, and tons more.
Below is a screenshot from the Bonnaroo site, but if you're like me, you'll scroll past that and watch Conan O'Brien announce it.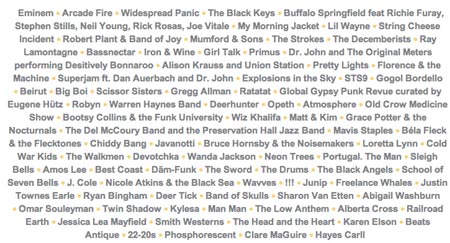 Other Stories