JAPANDROIDS – Heavenward Grand Prix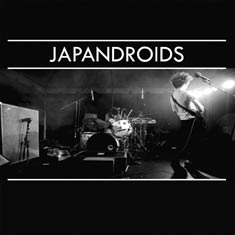 The world needs more bands like Japandroids.  While most new groups drop a debut and leave us salivating for what can be years, this Vancouver duo has been cranking out seven-inch releases throughout 2010 to continuously whet their fans ear-whistles.  The latest, Heavenward Grand Prix, follows its two-track predecessors with an original A-side (left over from the Post-Nothing recording sessions) and a cover for the B-side.  Those expecting more fuzz and frustration layered with steering-wheel-worthy drum fills can sit back and relax.  They've still got it.
It seems fitting that Japandroids (or their label) chose these specific tracks to group together.  Almost to a fault, both songs are built around distorted atmospheric walls of guitar laced with lyrics delivered in lightly melodic spoken word.  The title track feels a bit sluggish compared to most of Post-Nothing, but the complete mid-tempo experience can be hypnotizing if not energizing.  The B-side, a cover of PJ Harvey's "Shame," is fast and rough and has all that seedy, unkempt, no-furniture-but-a-mattress sexiness, but the semi-spoken vocals feel more like over-dramatic teenage whining than a worthy spin on Harvey's over-dramatic angelic whining.   It was a daunting task to begin with, and there's certainly a place for ambition, though I'd still take PJ's version any dreary day of the week.  But given the similarity of the tracks, this seven-inch will certainly prove perfect when the mood hits.  It's a welcome addition to the limited Japandroids catalogue.
(Polyvinyl Record Co., PO Box 7140, Champaign, IL 61826-7140)
Other Stories