DEERHOOF/PHYSICAL FORMS – Hoofdriver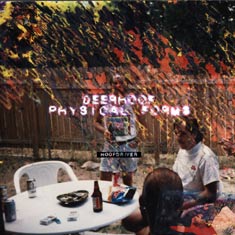 I can't be the only one to ever start making up lyrics during the opening notes of a song, am I?  Or at least ad-lib a little when there's no one else singing?  Well, why limit your lyrical creativity to a song's instrumental moments when you can simply rewrite the words entirely and record them over the music of one of your favorites?  That is, essentially, what Regan Farquhar (aka Busdriver, an LA-based MC) has done with his recreation of Deerhoof's "I Did Crimes For You."  The result, titled "I Did Crimes Behind Your Eyelids," is a dramatic interpretation that alternates between provoking subtlety and top-of-the-mountain exultance.  It's as catchy as it is interesting, hopefully eliminating any reasonable skepticism.  Perhaps we're getting a taste of future collaborations to come?
The B-side, a track from Busdriver's latest project, Physical Forms (which features members of The Mae Shi), is called "On The Brink," and it's bound to inspire a fifth-grader or two to pick up the drumsticks when sign-up day for the school band comes around.  The enormous percussion almost makes you forget to appreciate the guitars-of-decades-past noise that's swirling around the heavy beats and anthemic vocals.  There's a Van Halen energy here with only half the guilty pleasure!   The Hoofdriver seven-inch release is a perfect two-song combination for helping you through that frustrating commute.  Turn it up and fill in the gaps as desired.
(Polyvinyl Record Co., PO Box 7140, Champaign, IL 61826-7140)
Other Stories