MADBALL – Empire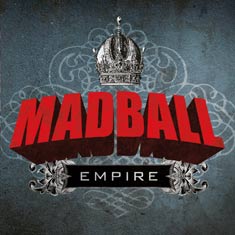 Madball was one of the first bands that got me into hardcore in the '90s, so I've always had a soft spot for them in my heart.  Their first two LPs, Droppin' Many Suckers and Set it Off, were two of my favorite albums for a number of years.  While I don't care for the style of "tough" hardcore the way I did 10 years ago, and I wasn't sure what to expect from their latest effort Empire I approached it with an open mind and a touch of nostalgia.  This new LP calls to mind the raw intensity of Set it Off or Demonstrating My Style era Madball, but with the cleaner recording quality of more recent efforts.
From the opening tracks "Invigorate" and "Danger Zone," Madball pull no punches, with breakdowns sure to generate insane moshing and sing-along parts sure to get crowds screaming along.  This album also brings a mature and perhaps a bit introspective Madball as seen on the tracks "Timeless," "All or Nothing," and "Glory Years," where vocalist Freddy Cricien criticizes looking back on the past with nostalgia and encourages listeners to "live for now!"
"There's no glory living in the past/no glory if you don't last," Cricien sings.  Older and wiser seems to be one of the themes on this album, but that doesn't mean that Madball are backing down from confrontations, to which the songs "Hurt You" and "Tough Guy" attest.
The title track, "Empire," relates how Cricien came to New York City and became part of the hardcore scene: "I was a stranger from a foreign place/I found my home here, I found myself, my grace/ the other pieces of my soul." He addresses the titles laid on Madball as the "kings of hardcore," and replies "I never crowned myself the king of anything…if we must lead, we will by example."
Following the title track is the song "Shatterproof," a great song regarding Freddy and the band's ability to endure for all these years despite hardships, and features vocals by Cricien's half-brother Roger Miret of Agnostic Front.  This song is the closest thing to a "single" on here, though it and the title track will definitely both be popular individually.
"Con Fuerza" is one of the heaviest tracks and includes fantastic sing-along parts, though I don't understand any of the lyrics — it and the ripping "Spider's Web" are the only songs not in English, but I doubt people who can't understand them will notice, as they will be moshing too hard to care.
The track "RAHC" ("Real American Hardcore") serves as Madball's direct response to critics who claim that hardcore as music genre is dead.  Madball shatter that view on this song — and on this entire album — proving that the kings of New York hardcore are still on top.  Longtime fans of Madball will be happy with this new addition to their catalog, and it's a great starting point for those new to the band to check out.
(Good Fight Music, 33 Imlaystown Road, Suite 2, Cream Ridge, NJ 08514)