THE AMERICANS – The White EP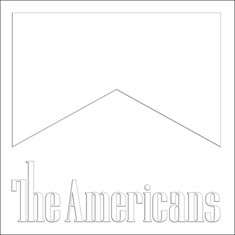 Since when has Bruce Springsteen become an undisputed touchstone for the indie landscape? 2010 has seen a number of up-and-comers (Free Energy, Titus Andronicus) and well-established festival crashers (Arcade Fire, The National) make music most directly attributed to at least one period of The Boss's career. Some more aged and grizzled, The Suburbs screams The River, and some, like Free Energy's debut, adhere simply to the couldn't-know-better rabidity and charming idealism of adolescent, star-crossed love.
The Americans' The White EP falls comfortably in the latter category, with maybe a heavier lean on youthful debauchery than the other examples. The five songs here (all written by mastermind Charlie Klarsfeld) are most definitely about girls in some sense, but without any of the hand-wringing apprehension or runaway aspirations — they might be tramps, but they were born to get high on the rooftops much before they were to run. The production is warm, urban, and full of E Street horns, with a penchant for Motown smoothness amongst rock n' roll jauntiness. "The Antidote" in particular completely eludes any rockist grouping and exists hardily as a pulpy soul cut. The band's best song, opener "Try (Nobody Wants To)," is a late-PM cruiser that slides off the record with a lazy, downtown drawl — by the time Daniel Merriweather's cracked croon and Klarsfeld's showoff guitar appear, the listener has already been more than won over.
It all amounts to an EP that's very successful at what it does. The Americans aren't out to rewrite musical history or redefine the world's musical pretenses; instead, they're simply out to play music from an era few can actually say they were alive for anymore. This is pure, roots-y, 45 RPM rock-infused R&B — perfectly good for historian purposes and if you just want to dance like the synthesizer was never conceived.
(self-released, no address provided)