Villagers – Becoming a Jackal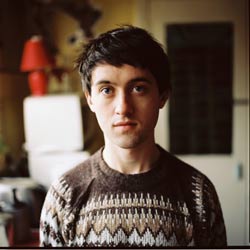 From the very first seconds of the new Villagers' release Becoming a Jackal, he's got you. A faint drone of organ, joined by eerie strings and a cascade of piano that collectively casts a Hitchcock movie shadow before a hushed voice asks, "Have you got just a minute?/Are you easily led?/Let me show the backroom/Where I saw the dead/Dancing like children on a midsummer morn/And they asked me to join" – and then the music obliges by with a similar spectral sweep. "I Saw the Dead" is not just the album intro of 2010 to date but also a magnificent intro to the vivid narratives, gripping poetry and melodic depth of Conor J. O'Brien — or as he likes to call himself and his cohorts, Villagers.
Over the course of 11 varied, subtle, complex and plain gorgeous songs, the Dubliner shows just why he is Domino's latest signing, while defying any easy categorisation of his influences or peers. O'Brien namechecks David Axelrod, Jens Lekman, Robert Wyatt and Rufus Wainwright but you could equally add Paddy McAloon, Paul Simon and Randy Newman to the possible roots of this record.
As well as playing solo shows, Villagers also play live as a full band, with Conor being joined onstage by James, Tommy, Cormac and bassist Danny Snow, as well as sometime collaborators David Crean (on keys) and Richie Egan (of the Dublin-based bands The Redneck Manifesto and Jape); "They're central to all this. When we rehearse, my little dictatorial act is over and they find their own way of playing it. The shows are one of most exciting things for me as the music morphs, so you can hear new lines coming in and things dropping out. But we only rehearse for a couple of days before a tour, so it's easy. It means I can keep writing instead of being locked in a room together three days a week. I've always preferred solitary writing, shutting your brain off from everything else."
Click (control click for pc) to download!
[download id="261" format="1"]