V/A – Warped Tour 2010 Compilation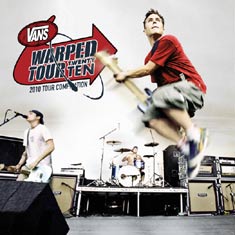 I'm having a big dilemma here. A lot of people would agree with me when I say that the Vans Warped Tour has lost its punk rock reputation because the tour has too many corporate sponsors and the lineup has become overrun by bands that would only appeal to "emos" and "scenesters."
Originally, I planned to use this review as a soapbox to announce my distaste for the current condition of the Warped Tour, but I was given a new perspective after recently viewing a documentary called Punk's Not Dead where the term "sell-out" is challenged. In this documentary, Warped Tour creator Kevin Lyman says punk shouldn't be exclusive and claimed that he wanted to use money from corporate America so that kids could see their favorite bands all on one bill. Punk-as-fuck bands add that it's good exposure and that it's perfectly fine to take money from big businesses without having to change their music. In today's world, it's impossible to avoid corporations, so what's the harm? But the problem still lies in the present lineup. What struck me first about this year's lineup wasn't merely the presence of some bands, but the absence of veteran acts that made VWT worth the $45. Bands like NOFX, Big D and the Kids Table, Flogging Molly, and Less Than Jake have dropped from the bill, making the Warped Tour less appealing to people like me. After witnessing talented punk bands disappear from the lineup year by year, it's only a matter of time the surviving bands go as well.
Let's talk about the compilation. The first track on the first disc is strangely a Blink 182 song; I'm guessing it's to commemorate their brief reunion in the past year. The songs are appropriately grouped based on the style of music; for example, Every Time I Die, Bring Me The Horizon, Set Your Goals, and Parkway Drive are placed in subsequent order. There are some great bands on disc one, like The Bouncing Souls, The Casualties, Fake Problems, the Flatliners, and Flatfoot 56, to name a few. It was pleasant listening to disc one, which included some songs from bands I haven't bothered picking up before.
Disc two is a different story. The second disc is polluted with screamo and over-emotional alternative bands, which are the main reason I'm disgusted with the modern Warped Tour. Most of these bands I found unbearable to listen to (with the exception of Four Year Strong), mainly because they all sound the same and the music is utterly depressing. You can accuse me of having a closed mind, but after listening to 14 agonizing tracks one after another, my face hurt from cringing so much. I felt sick to my stomach and a bad taste was left in my mouth. Some may like this kind of music, but it's definitely not my cup of tea. It was a breath of fresh air when "Party Girl" by Fight Fair played. From there, the disc improved, but I got pissed off again when I discovered that there was a misprint in the tracklist; "Fast Girl" by the Frantic was replaced by a song I didn't recognize. The Frantic certainly don't get the kind of appreciation they deserve.
In my opinion, disc one gets four-and-a-half stars, while disc two gets only one star. I've decided not to attend the Warped Tour when it comes to my city because the cons outweigh the pros. Maybe I'll attend in 2011 if the lineup recovers, but for now I'm not willing to spend my hard earned money to wait around in front of the huge schedule for hours, trying to drown out the sound of a whiny singer in the background.
(Side One Dummy Records, 1944 N. Cahuenga Blvd., Los Angeles, CA 90068)