EFTERKLANG – Magic Chairs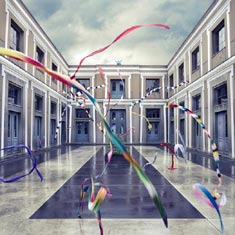 A couple tracks into Efterklang's newest album, Magic Chairs, I was ready to write them off as a pseudo-Arcade Fire rip-off band. It's easy criticism. Ever since Arcade Fire dropped the masterpiece that is Funeral, bands across the country have tried to recapture and reproduce the success of that. Even Arcade Fire themselves, in my opinion, have never quite figured out it again. And there is no doubt that Efterklang owe their sound to the success of that album — they really don't branch beyond the template set up in 2004.
However, if you can push through the forgettable first half, the second part of the album delivers fully on the sound you've come to expect. From "Full Moon" all the way through "Natural Tune," Efterklang delivers solid track after solid track. The height of the album is found with "The Soft Beating" and "Scandinavian Love." "The Soft Beating" starts off weak, but much like the recent Gorillaz track, "Sweepstakes," the music is about the stumble to find the structure. As more layers on and interacts, the song evolves. The rough uneven nature of the initial sound gives way to a splendid epic stadium rock anthem.
"Scandinavian Love" is my personal favorite moment. It feels more alive and up that anything else here, and my biggest issue with the first half of the album is that it sounds so unenthusiastic, which is the death sentence of this musical genre. With this song, Efterklang feel celebratory and in love with the music they are making. The broken beat pounds in a way that hooks you in immediately. It's one of those of songs that is so damn catchy, you'll find yourself overindulging, forgoing perfectly decent tracks in favor of how good this one is. It's the danger of writing such a good track amid just passable work.
The final track, "Natural Tune," is another beautiful moment. It feels as though it were the product of a collaboration with The National, conjuring up the rough vocal mumble of songs like "Wasp Nest." It also signals the versatility that Efterklang are capable of. If they could break themselves of the shackles of their current sound, they may be able to produce something even greater next time around. Because for every perfectly captured piece ("Scandinavian Love"), there are several tracks that just feel empty and forgettable. There's a lot of potential here, Efterklang just need to be even more ambitious — they are definitely capable of great things.
(4AD Records, 17-19 Alma Road, London, UK  SW18 1AA)